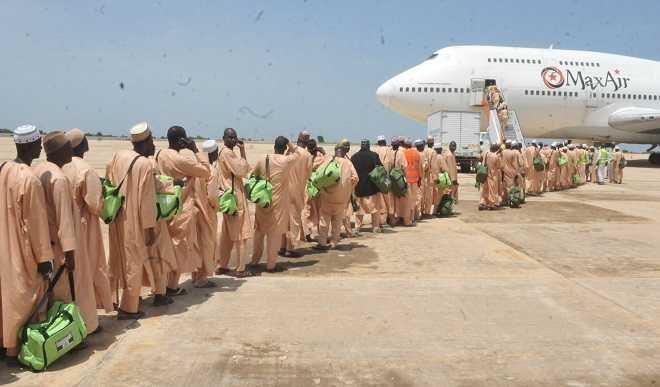 The National Hajj Commission of Nigeria (NAHCON) has so far transported 6,090 Nigerian pilgrims from Saudi Arabia to Nigeria in about 14 return flights.
The pilgrims took off from the King Abdulaziz International Airport, Jeddah.
Statistics released from the Command and Control Centre of the Commission in Jeddah on Sunday showed that 550 Sokoto State pilgrims with nine officials departed Jeddah Airport to Sokoto on Sunday.
The ongoing transportation exercise is being carried out by two out of three approved airlines: Max Air Ltd. and Flynas, a Saudi designated carrier.
The exercise which started on Sept. 6 is going on smoothly.
The exercise is scheduled to end on Oct. 5, however, if the tempo is maintained and without any hitches, it might be concluded before the deadline.
Meanwhile, NAHCON Management staff, some Board members, Nigerian Embassy and Consulate officials have been visiting houses where State and Tour Operators' pilgrims are accommodated to ascertain the condition of the faithful.
Addressing the pilgrims, NAHCON Commissioner of Operation, Alhaji Abdullahi Modibbo, advised them to adhere strictly to the approved 32 kilogrammes for big luggage and 8 kilogrammes for hand luggage.
Modibbo also urged officials of the State Pilgrims Welfare Boards and Agencies to strictly adhere to flight schedules.
He also appealed to both pilgrims and officials to abide by the principle of "first-to-come, first- to -return.