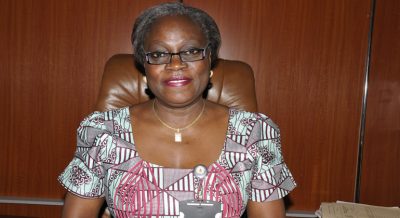 The acting Director-General, National Agency for Food, Drug Administration and Control, (NAFDAC), Mrs Yetunde Oni, said the agency would not compromise standards in its drive to fast-track product registration process.
Oni said this on Monday in Abuja while reacting to comments by stakeholders at the Presidential Enabling Business Environment Council (PEBEC) 2016-2017 Reform Update.
She said the agency would try to hasten the application and approval processes for product licensing without compromising on standards and health of citizens.
"NAFDAC is fully committed to the ease of doing business in Nigeria.
We have already taken a number of steps to demonstrate this.
"However, given the peculiarity of our agency and its impact on the health of citizens, there are fundamental issues that we cannot toy with.
"We try as must as possible to ensure that we accommodate everybody while operating in line with global standards.
"So for you to register a product, the laboratory result must be satisfactory. The lab is the heartbeat of the agency and so also the facility the business is operating," she said.
However, to hasten the whole process, Oni advised Micro, Small and Medium Enterprises (MSMEs) doing similar businesses to form clusters.
She said together, they could invest in building standard structures, which once inspected and approved, would serve every member of the cluster.
READ: We yet to maximise women potential in nation-building" – Oduah
Meanwhile, the Enabling Business Environment Council Coordinator, Dr Jumoke Oduwole, said that the council had priotised six Ministries, Departments and Agencies (MDAs) to improve their business environment.
"You talked and we listened. Since July, we have been paying closer attention to NAFDAC, SON, Ministry of Industry Trade and Investment, NOTAP, Police and Customs because they had the highest number of negative feedback.
"When it comes to trading across borders, movement of goods and services across the country, the private sector has brought to our notice that police and customs were said to be the worst
"Also, on the issue of intellectual properties, people complained about the difficulties in getting patent and trade mark licence from NOTAP.
"Therefore to sustain the improvement, we are already seeing the ease of doing business in the country; we must ensure that these agencies improve their service delivery," she said.
Oduwole said that the council was also working with state governments as well to improve the areas of starting a business, enforcing contracts, dealing with construction permits and registration of properties.
Also, Dr Adeoye Adefulu, a member of the Section on Business Law, Nigerian Bar Association, in a paper presentation, said government red tape continued to impact the cost of doing business in the country.
"Despite government's efforts, there still remained slow permitting process with no fixed times and difficulties in obtaining updates on permit processes.
"Also, multiplicity of regulators with conflicting roles and lack of institutional respect between agencies is a challenge.
"Some regulators do not use modern tools of communication such as email to communicate with stakeholders and they have no concern for administrative or financial impact of regulatory imposition," he said.
Adefulu urged the government to review its regulations on permits. He said that in some sectors, investors were required to apply yearly for renewal of permits.
"Investors are wary of investing in long term projects requiring long term finance because of the habit of regulators to issue short term licences," he said.
A key component of the Federal Government's change agenda is the creation of an enabling business environment for Nigeria and foreign-owned businesses.
The country currently ranks 169 out of 189 in the ease of doing business rankings of the World Bank.
The current administration aims to improve the country's position to top 100 by 2019/2020 and top 50 in 10 years.