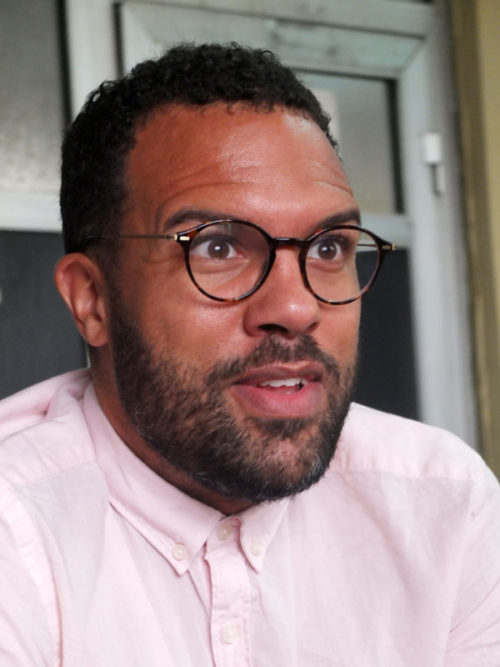 O. T. Fagbenle, O-T for style, is the son of Nigerian journalist/columnist, Tunde Fagbenle. Named one of Backstage Magazine's Actors to Watch, O-T Fagbenle has quickly made a name for himself throughout the UK and US for his critically acclaimed work in theatre and television. This year Fagbenle can be seen starring opposite Elisabeth Moss in HULU's highly anticipated new drama series "The Handmaid's Tale."
It is based on the best-selling novel by Margaret Atwood and set in Gilead, a totalitarian society in what used to be part of the United States. In a desperate attempt to repopulate a devastated world, the few remaining fertile women are forced into servitude. One of these women, Ored (Moss) is determined to survive the terrifying world she lives in and the daughter that was taken from her. Fagbenle shines as Luke, Ored's husband from the world before Gilead, and father to their daughter Hannah. He will stop at nothing to keep his wife and child safe, in their new dystopian reality.
Over the last two years Fagbenle has been the titular lead in two flagship UK shows, "The Interceptor" for the BBC and on Harlan Coban's "The Five" for Sky TV. In theatre, he led the National Theatre cast of August Wilson's New York Drama Critic Circle Award-winning play, Ma Rainey's Black Bottom, to the prestigious Olivier Award. Fagbenle was personally nominated for Best Actor (alongside his alma mater Ralph Fiennes) for the illustrious Evening Standard Awards. BBC's Radio 4 called his performance "Mesmeric – almost impossible to take your eyes off him… he rips your guts out."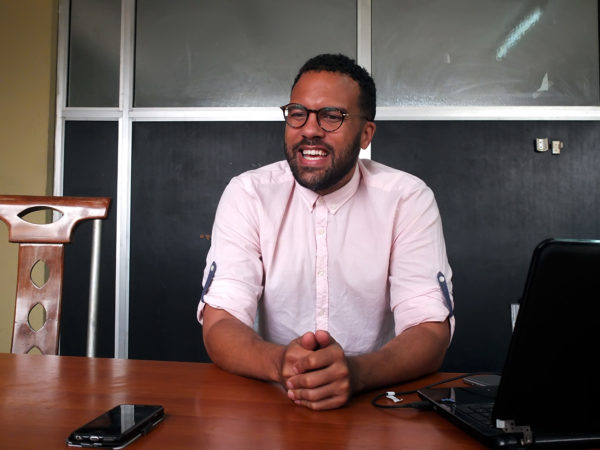 Last year Fagbenle also appeared in the HBO "Looking," completing his memorable characterization of Frank from the HBO cult dramedy series of the same name. Also on the front – he appeared as the male lead in the BBC's critically acclaimed feature "NW" based on the bestselling novel by Zadie Smith.
Born in London and raised across London, Spain, and Nigeria, Fagbenle was a world traveler at a young age. As a child, music was his passion and he played the saxophone in bands across Europe, performing at the Edinburgh Festival, Wembley Arena, the Royal Albert Hall, and even touring Spain. At 16 years old he landed his first proper role in a Nigerian adaptation of the William Shakespeare play, Macbeth. He went on to attend the prestigious Royal Academy of Dramatic Arts, graduating early in 2001 and joining alumni such as Sean Bean, Ralph Fiennes, and Anthony Hopkins. Theatre became his passion, as he appeared in dozens of plays across the UK, working in notable productions including the national tours of shows such as Ragamufin, Romeo & Juliet [as Mercutio], and the West End debut of Porgy and Bess, the musical. Fagbenle was soon offered his first lead role for the stage, in John Guare's award winning play Six Degrees of Separation. His work was met by outstanding reviews, and a M.E.N. Theatre Award for Best Actor in a Leading Role. While Fagbenle's career fourished in theatre, he made his break into film and television.
In 2006 Fagbenle made his feature film debut, appearing in The Weinstein Company's "Breaking and Entering" opposite Jude Law, Robin Wright, and Juliette Binoche.
He was next seen in "I Could Never Be Your Woman" in 2007 alongside Paul Rudd, and Saoirse Ronan. In 2008, he made his first appearance on US television, starring on NBC's "Quarterlife" as singer/songwriter John. Fagbenle was able pen and perform all the songs his character played on the show, tapping back into his musical roots. 2008 also a handful of starring roles for Fagbenle in the UK; as he appeared in the critically acclaimed "Walter's War" as Walter Tull. He also starred in the television series "Thorne," an adaptation of the Mark Billingham novels Sleepyhead and Scaredy Cat. Directed by "24" producer Stephen Hopkins, the six one hour episodes also starred Sandra Oh, and David Morrissey, and was sold to over 100 countries.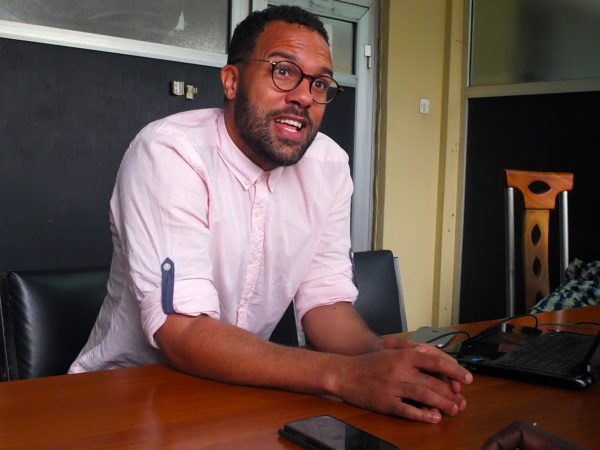 Fagbenle went back to theatre in 2012 taking on the role of Slupianek [originated by Alan Cumming] in The Conquest of the South Pole at the Arcola and Rose Theaters. Once again he won critical acclaim across the board, and secured a nomination for Best Male Performance at the O? West End Awards. In 2013, he landed a series regular role in the BBC comedy "Quick Cuts," and also was cast on the HBO series "Looking" in the US. Some of his additional television credits include: "Happy Endings," "Brothers," "My Boys," and "Doctor Who."
In addition to his work in front of the camera Fagbenle has a passion for working behind the camera, his short film "Moth" won Best Horror Sci-Fi at the London Film Festival and is now in development as a series for the BBC. He is also developing a series based on his soon to be released C4 pilot "Lion." When not on set, Fagbenle loves to go backpacking, play basketball, collaborate with artists on the music front, and volunteers at numerous schools, putting on free drama and music classes for kids. He currently split his time between London, Toronto and Los Angeles.
He flew into Nigeria recently and visited TheNEWS headquarters where he fielded questions from ADEMOLA ADEGBAMIGBE and LANRE BABALOLA
You are Mr Tunde Fagbenle's son. Tell us about him, how he influenced your life?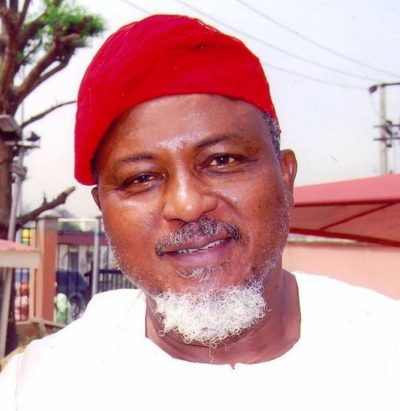 My dad is one of the most open minded and intelligent people I know. He comes alive with curiosity and openness in the sense of fairness and liberalism which kind of influenced my whole understanding and the way to approach the world and approach people. My dad also has a way of treating people with a sense of kindness, one of the things he told me there is no wisdom greater than kindness, that really influenced me.
What influenced your choice of the theatre?
Actually you know it was my dad's very good friend and my uncle, Rufus Orisayomi who introduced me to theatre and he gave me my first opportunity in the theatre during a Nigeria adaptation of Macbeth. That was when I was very young and was going to school in the UK after that I went on to study for three years before I started my theatre career.
You grew up in London, Nigeria and Spain. Please kindly compare the three cultures?
I think cultures are not static across time also my experience of Nigeria as six year old might be different as a 16-year old. It's interesting because when I first lived in Nigeria I lived very modestly with many people living in one room and in the second time, we lived affluently, we lived in Ikoyi. So culturally my experiences differed. In Spain I didn't have a traditional Spanish cultural experience because we were living in a very expatriate community, it was an English enclave within Spain. And then again within London the irony is when I went to London there were only three white people in my class, white people were the vast minority, the majority were Indians, Pakistani, Bangladeshi, Jamaicans and some Africans. So everything has its own kind of twist of what was the norm and I think that had influenced the way i express my art because I'm always looking for the twist or the alternative way of looking the average.
Do you speak Yoruba?
I'm sorry to say not really well. I earlier told my friend I was trying to learn Yoruba but it is quite disheartening because one of the things I like Yoruba people (myself included) is that they have a great sense of humour. Anytime you pronounce something wrong in Yoruba, they laugh at you, it is very disheartening. (He laughs)
Just give us one or two lines of Yoruba that you know
Kini oruko yin (What is your name?). Nibo l'on lo (Where are you going?). Mo fe jeun (I want to eat)…
What was the influence of your mother on you?
My mother is the greatest influence in my life, she is the bravest, most generous, most daring and most profound person I know. She embodies so many things I want to achieve. If I lived half my mother's life I would consider myself as a victor.
You have been part of some dramatic performance in the UK, tell us all that you have done so far?
I have been so fortunate to do so much work. I started off in African theater but since graduating, we did Shakespeare, which we took to Hong Kong, Babardos. I got to do a musical in London's (famous) West End, I played the role of Sportin' Life in Sir Trevor Nunn's award-winning production of Porgy and Bess at the Savoy Theatre. I was part of an extraordinary play, Ma Rainey's Black Bottom, a play about racism, about jazz, about the young overtaking the old, its about the futility of trying to fight the machine and mental health, and other controversial issues.
Which among these has been the most celebrated?
I would say the last one I did – Ma Rainey, it had 4, 5 star reviews and nominated for lots of awards. I was blessed to be nominated so many times for that role.
What have been the challenges you have been facing so far?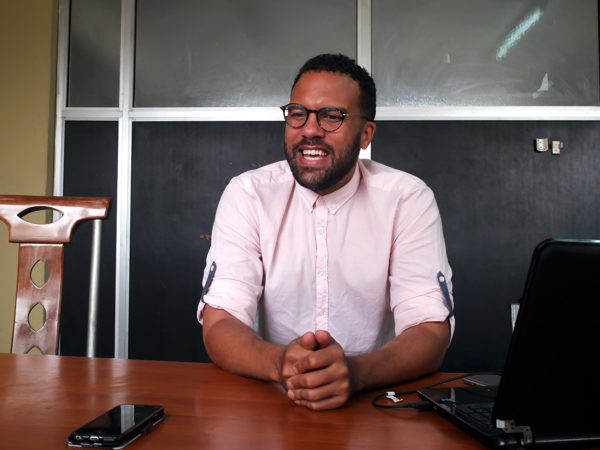 I think for the artist, the challenge is to take risks, because if you don't take the risks you will never achieve brilliance, it is by playing safe that you can ensure yourself of mediocrity. I think that it is one big challenge, those people that redefine the sphere are the people that take risks to do what was never done before. I think every artist experiences many rejections, and you should be able to allow your mind and heart to withstand the barrage of criticism and doubt, it takes a certain frame of mind.
What is your impression of Nollywood?
I'm really excited about Nollywood, the show I'm doing at the moment is an American show called the handmaids tale and this year won best drama. I've been lucky to work with top professionals in the world and I look at Nollywood and I say wow.. despite much smaller resources, and with what I do, each episode costs about $5 million, each episode, they make ten of them, that kind of budget, 40 minutes not two hour movie, no. 42 minutes television show, you are spending 5 million dollars. But in Nigeria with extraordinary intelligence, creativity and determination they make amazing movies too.. that is really inspiring.
Right now I am making myself a television show MAXXX and it can be found on Youtube. You can just go and link it to see it.
I have been facing those challenges of scarcity and this is what excites me about Nigeria, they know how to make the most of what they have. I'm hoping to do more work with Nigerians here so We can work together with the knowledge I have got from America and borrowing from the experience here is something I am very excited about.
Read more here:http://thenewsnigeria.com.ng/2017/09/nigerians-make-amazing-inspiring-movies-ot-fagbenle/
Load more