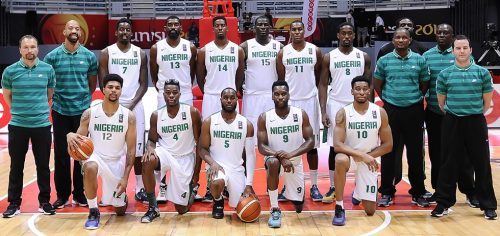 The D'Tigers can successfully defend their AfroBasket title if they correct some of their lapses before facing Cameroon on Thursday, some former national basketball team players have advised.
The News Agency of Nigeria (NAN) reports that the D'Tigers will face Cameroon in a quarter-final match at the 2017 Men's AfroBasket holding in Tunisia and Senegal.
The ex-internationals told the News Agency of Nigeria (NAN) in Abuja on Tuesday in separate interviews that the team look good enough to re-enact the 2015 success in Tunisia.
Nigeria had won its first FIBA Men's AfroBasket in 2015 by beating Angola 74-65 in the final match, but has now lost one of its three matches at the 2017 edition.
Olumide Oyedeji, a former D'Tigers captain and ex-NBA star, said the team needed to be focused in order to win against Cameroon.
"Nigeria's game against Cameroon is going to be a very tough one because they (both teams) match up in a lot of things, including the style of play.
"But I believe if we build on our defence, steals and all that, they should not be a threat to us. We have all it takes to bring back the Cup.
"I'm sure we'll go beyond the quarter-finals to meet Senegal, because they too have what it takes to beat Angola This is because Senegal just returned from the Olympics qualifiers," he said.
READ: Federal Government to provide insurance for ranch operators
Stanley Gumut, ex-D'Tigers and current captain of Mark Mentors Basketball Club of Abuja, said blending among the players was important.
"I observe that the players only need to blend a bit more with each other than they did in previous matches.
"They also have to improve on their defence. After getting that right, they have what it takes to beat Cameroon.
"I know Cameroon will want to bang their feet on the ground, but I expect D'Tigers not to be moved with that. Instead, they should play their game to carry the day," he said.
Also, Sam Ogwuche, another ex-D'Tigers player who played in Europe and the U.S., commended the players for their efforts in qualifying for the quarter-finals.
"First of all, I want to commend the team for putting up a good fight in the defence of their title.
"They should try more to play together as a team, control their fouls and work more on their defence. These will complement their skills and determination to bring back the trophy.
"It's a very young team and the players have all it takes to return the Cup to Nigeria," he said.
NAN reports that Nigeria won two out of their three Group A matches, but still topped the group at the end of the preliminaries on Sunday.

Load more