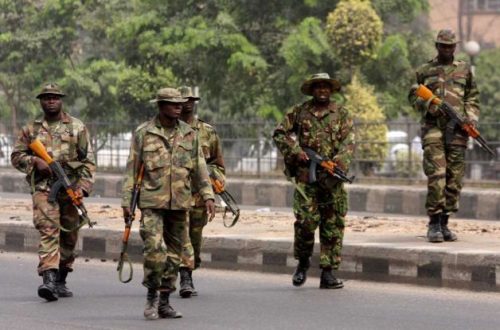 By Pius Adesanmi
Umuahia. They said. We said.
Who is right?
Who is wrong?
That has never been and will never be the issue for me. The issue for me is this utterly reprehensible idea of the military and their tanks in civilian spaces.
I have written about it in English. I have written about it in Pidgin. I have used every conceivable Nigerian way and manner of communication to get people to understand that it is not normal. You cannot use soldiers and their tanks for routine law enforcement. Even in Iraq and Afghanistan, there is still law enforcement by police.
How can the Nigerian military issue a statement and claim that she was conducting a routine "show of force" in a civilian street?
I am sorry for those who continue to find every excuse – Kanu is a very tempting excuse I admit – to countenance, tolerate, justify, explain, and rationalise the continuous occupation and violation of civilian spaces by the military nearly 20 years into democracy. You belong in a confederacy of aberration that is preventing Nigeria from coming into the 21st century.
Sadly, our compatriots of this persuasion have the support of some very obstreperous diaspora enablers who have never seen a military uniform in civilian space in decades but continue to find reasons to justify such assaults on civilian spaces in their Fatherland.
Even the regularity with which one reads statements from the Nigerian military would be a very serious issue if we had close to 15 percent civic consciousness in our society. They are always injecting themselves into symbolic civilian spaces of meaning. Two danfo conductors will fight in Lagos, the army will issue a statement. Five market women will fight in Ibadan, the army will issue a statement. Secondary school boys will riot in Sokoto, the army will issue a statement.
There is always a statement from the army urging Nigerians to ignore this and that and go about their normal business. Are you law enforcement? Here is how the Abia Police Commissioner explained the incident:
"What happened was that the military was parading a new armoured carrier and passed through Nnamdi Kanu's residence."
The military was "parading a new armoured carrier" in Umuahia? When did the streets of Umuahia become an Army training range? Even the police commissioner has functioned in this aberrant, bastardised environment for so long that he doesn't even know that his men ought to be enabled – via better training, better equipment, etc – to carry out the duties he is reporting.
The National War College used to invite political science professors and other social scientists in our universities to teach classes. I remember many UI professors used to go and teach yonder. Have they stopped the practice?
In a situation where the majority of the people can be relied upon to continue to justify the aberration of the military in civilian spaces because they have been battered psychologically for too long, the only other option is to take the disciplines of the Humanities and the social sciences to the soldiers.
Education is still the only solution.
Pius Adesanmi, a professor of English, is Director of the Institute of African Studies, Carleton University, Canada.