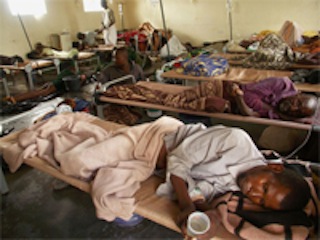 Dr Joshua Ndom, the Medical Director, Federal Medical Centre (FMC), Keffi, Nasarawa State, has advised nurses and other health workers to respect and protect the rights of patients.
Ndom gave the advice on Wednesday at the 17th Scientific Conference/ Annual General Meeting (AGM) of the Body of Heads of Nursing Departments and Principals of Schools of Nursing in Federal Institutions (BOHNDPSFI) in Keffi.
The News Agency of Nigeria (NAN) reports that the theme of the conference titled: "Electronics Medical Records (EMR) in a Depressed Economy: The Role of Nursing'', was delivered by Ndom.
"The right of the patients also need to be protected at all the time in order to avoid untimely death, because patients are kings in every health sector and a healthy person can become a patient one day but that is not our prayers.
The medical director also urged hospitals in the country to key in to Electronic Medical Records (EMR) system considering its enormous benefits in boosting the health data of patients.
"The choice of this conference topic is timely considering the advantages of Electronic Medical Records over manual records, hence the need for hospitals across the country to embrace it.
"So the pivotal role of Medical Record is in the centre of the cycle of the hospital and as we are aware that Electronic Medical Record (EMR) is a digitise means of records as everything about a patient is done electronically.
"EMR have a lot of advantages which include reduction in medical errors, no missing of patients information, cost effectiveness, increased clinical process and reduced waste of time, among others, so hospitals should key in to the system,'' he said.
Ndom restated his commitment to continue to key in to positive health programmes and policies that have direct bearing on the lives of the staff of the centre and patients at large.
READ: Committee on Education to ensure proper equipping of colleges in Enugu State
Earlier, Mr Bala Adams, Head of Nursing Services Department, FMC, Keffi, said that the theme of the conference was meant to synergise with all the participants so as to take back the message of EMR to their various management for proper patient records.
"This is the 17 year since the body came into being. It is a forum where members learn new trends in the profession, compare notes with their colleagues on happenings in their centres and learn from each other's life experience," he said.
While commending Ndom for improving infrastructure and facilities in the centre, he called for its sustenance.
NAN also reports that the conference brought together participants from various federal health institutions across the country.
The participants included the Registrar of Nursing and Midwifery Council of Nigeria (NMCN), Alhaji Faruk Abubakar, among other health experts.