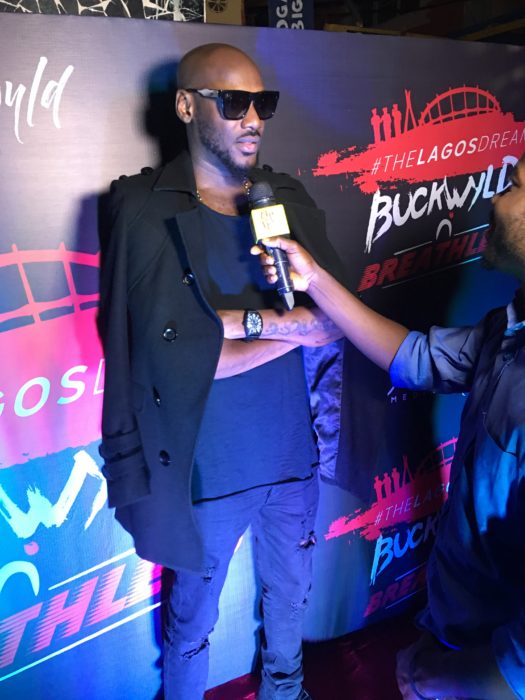 Harrison Iyoha
Ace artist, Innocent Idibia aka 2baba has unveiled the 2017 Buckwyld 'n' Breathless Musical Concert which will hold at the Convention Centre, Eko Hotels, Victoria Island, Lagos on 22nd October.
He announced the concert on Tuesday at the 'Live Music Lagos' event held at Bogobiri House, Ikoyi, Lagos where the audience was treated to an evening of melodious classic live music.
He reminded the audience that what they saw at last year's concert was a child's play compared to what he and his team were lining up for the October show.
The theme of this year's concert is: 'The Lagos Dream.'
At the unveiling, which was hosted by popular emcee, Andre Blaze; 2baba  stated that "The concert will be packed with world class live performances featuring many A-list artistes. I assure you, it will be different from what fans are used to".
When asked what should be expected at this year's concert, he said he would not want to say much about it but that his fans should expects nothing short of entertainment.
"Like you know, we at Buckwyld 'N' Breathless, is a well scripted show different from what we are used to in this part of the world. This is not like the everyday regular show; we are bringing in a lot props and creativity on stage and some artistic creative stuff infused into the show come October.
"For me and my team, we just want people to come out on that day and experience it. Nothing that I would say here now can give them the whole idea of what we are about to unleash in Lagos until they come and watch the show," he said.
When asked if Nigerians should be expecting another show from him before the year runs out, 2baba said nothing of such should be expected, but noted that he could not say the same of other artistes.
"For me, Buckwyld 'N' Breathless is going to be that one for this year. Buckwyld 'N' Breathless has always been my own show but now we are going to be having supporting headliners as well," he said.
Tiwa Savage, also a headliner for the most anticipated event in 2017, spoke live from South Africa, saying that "The Lagos Dream Concert would be a blast and I can't wait to perform".
'The Lagos Dream' will be headlined by 2baba and Tiwa Savage with live performances from many other guest artistes.