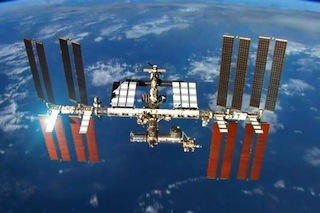 The National Space Research and Development Agency (NASRDA) on Thursday in Abuja, said it was deepening effort toward encouraging young people in space technology.
Dr Benjamin Ayantunji, the Chairman of Nigerian Space Ambassador Scheme in NASRDA, made this known when he led Space Ambassadors from the agency on a courtesy visit to the News Agency of Nigeria (NAN).
NASRDA Space Ambassadors are Miss Salma Manane of Glisten International School, Abuja – the Space from Senior Secondary, Miss Juanita Nkosi of Darman Satellite School, Lagos – Space Ambassador from Junior Secondary School.
Daniel Gashibaki of Braniyville International School, Abuja – Space Ambassador from  Primary School.
Ayantunji said that engaging youths in space studies would reinforce their potential to use space technology for national development.
'`The purpose of the programme is to catch them young as we know today that space capability determines a nation's strength and prestige.
"The programme is to further encourage other students in acquiring knowledge in space technology and to join the NASRDA Space Ambassadors who were selected by competitions from different schools in the country, " he said.
He said that NASRDA Space Ambassadors were meant to interface with the society on space technology.
According to the coordinator, the duration for ambassadorship is two years.
He said that space technology was developed for use in spaceflight, satellites or space exploration.
According to him, these also include spacecraft, satellites, space stations, and support infrastructure, equipment and procedures.
READ: Minister identifies Mining, agric as sectors to push Nigeria out of recession
He noted that the benefits of space exploration include making way for future discoveries, addressing global challenges in space and on earth through the use of innovative technology.
According to him, others are creating global partnerships by sharing experiences on space studies and peaceful goals; inspiring the younger generation and creating enabling environment for economic expansion and new business opportunities.
He called on the private sector to support Federal Government in promoting space technology in the nation, pointing out that "space technology is expensive''.
Ayantunji said that the NASRDA would organise Space Technology Expo in Abuja on Oct. 19 to showcase the best innovations in space technology from all states in Nigeria.
Salma, the Space Ambassador for Secondary School said she was working toward creating a Space Club that would be a channel for more youths to be involved in space technology.
She said the aim of the project was to help many youths to acquire knowledge about the space and its benefits to humanity.
Responding, NAN Managing Director, Mr Bayo Onanuga, commended NASRDA for encouraging students in space technology.
Onanuga, who was represented by the Editor-in-Chief, Mr Zango Yusuf, promised that NAN would fully participate in Space Technology Expo by publishing all its activities.

Load more