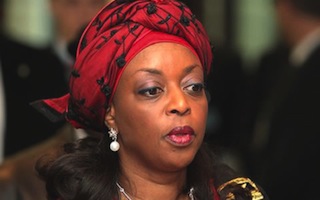 The acting Chairman of the Economic and Financial Crimes Commission (EFCC) Ibrahim Magu says the commission is making moves to extradite former Petroleum Resources Minister, Diezani Alison-Madueke to Nigeria.
Several Nigerians have called for her extradition from the UK after different corruption allegations were leveled against her.
Properties worth billions of Naira linked to her have since been forfeited to the federal government, many permanently.
Addressing journalists, civic groups, and others, Magu confirmed the moves to extradite Mrs. Alison-Madueke.
"I want you to know that nobody will go unpunished. We are even seeking to extradite Diezani, but investigations are still ongoing," Mr. Magu said.
"We have reached a level where nobody can stop us in the fight against corruption, but we all must realize that we are all stakeholders, and this fight is for the future generation."
He added that all Nigerians must play their roles, "because EFCC can only do its best; but we must support the agency, and the law should take its course, policies should be strengthened, and punishment must be meted out in good time."
Mr. Magu also blamed recent separatist agitations in Nigeria on corruption.
"Every evil that is happening now is caused by corruption: agitations, strikes, whatever. Corruption has chased our good human resources out of the country. It is the duty of this generation to correct the evils caused by corruption."
The anti-graft chief also spoke on corruption among members of his organization.
"I want you to tell us if there is corruption in the EFCC," he said. "It makes no sense if people are fighting corruption and they are corrupt. So tell us, don't keep quiet."
Premium Times