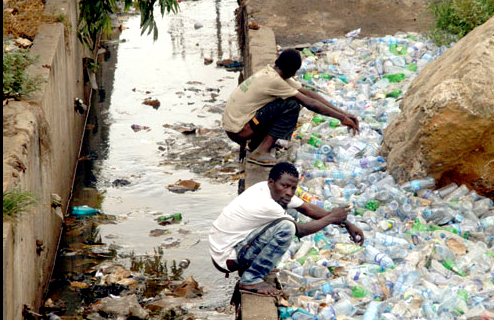 By Kazeem Ugbodaga
In its efforts to rid the environment of all infractions, the Lagos State Government has arrested five individuals for urinating openly on the streets of Lagos.
 The five persons, Bokovou Ettiene, Ajetunmobi James, Adeuga Adetola, Emmanuel Adekola and Ishola Akanbi,  were arrested by the Special Adviser to the Governor on the Environment, Mr. Babatunde Hunpe during his sanitation inspection tour of some Local Government Areas in the State on Thursday.
 The Special Adviser, who was on tour of  Yaba, Mushin, Ojuwoye , Ojuelegba and Ojota areas of the State to ascertain the performance of the sanitation intervention initiative inaugurated to cart away refuse on the street of Lagos,  reiterated the commitment of government to rid the State of all infractions, among which were open urination and defection.
 Hunpe, while addressing the arrested people, warned them to desist from such act, stressing that it was mandatory for all petrol stations and eateries in the state to make their toilets available to members of the public whom he urged to always avail such facilities for their convenience, in addition to the public toilets in the state.
 "There is no excuse for open urination and defecation as we have public toilets all over the state, while eateries and filling stations are  compelled by law to keep their toilets neat and make them available to members of the public", he said.  
 Upon obtaining the commitment of the apprehended quintet, who pledged to henceforth champion the 'no open urination" cause of the Lagos State Government, Hunpe warned them against such acts in the future, stressing that government would not hesitate to bring the law to bear on anyone who is caught in the act henceforth.
 He decried the practice of open defecation and urination, stressing that the effects on the environment and the wellness of the people were too serious to be ignored.
 His words "Not only do they pollute the underground water, they contaminate agricultural produce, aid the spread of diseases and incapacitate the workforce."
 Meanwhile, Hunpe has expressed the commitment of the government to ensure the sustenance of the gains of the Sanitation Intervention Programme, which has ensured that the streets of Lagos were clean through the combined efforts of the Ministry of the Environment and the Lagos Waste Management Agency, LAWMA.
 He expressed satisfaction at the level of the cleanliness of major streets in Yaba, Mushin and Ikeja and urged LAWMA and officers of the ministry to sustain the tempo of work, stating that all hands must be on deck to rid the state of refuse black spots.
 While frowning at indiscriminate refuse disposal, he reminded Lagosians, especially market women and men, who were fond of illegal dumping of refuse on the road, of government's policy on zero tolerance to all environmental infractions.
 He restated government's resolve to expeditiously apply regulatory and enforcement measures against contraventions of government policies and regulations.
 The special advisee, however, enjoined residents to voluntarily comply with the extant State environmental laws, stressing that the environment, being relevant to all, should be properly maintained "if we must attain environmental sustainability and socio -economic well-being."