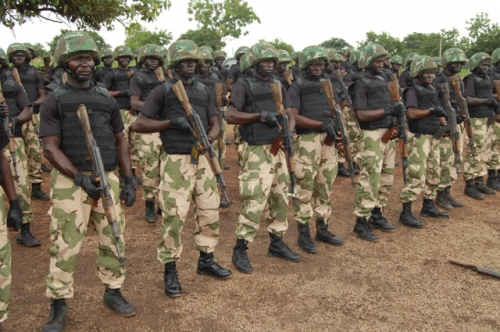 Different reactions from some residents of Port Harcourt are trailing the prosecution of `Operation Python Dance II' in Abia by the Nigerian military.
The army recently launched an exercise tagged operation as a way of tackling kidnapping and other acts undermining the security of lives and property in the Southeast zone.
The operation is the second phase of "Operation Python Dance'' which was launched nearly 12 months ago.
Speaking with the News Agency of Nigeria (NAN) in Port Harcourt on Thursday, Mr Paul Gbakpo, a lawyer, said that deploying the military in Abia was in line with best global practice.
Gbakpo said that the activities of the Indigenous People of Biafra (IPOB) could be hijacked by miscreants to breach the peace.
"So, it is normal for the military to hang about and keep watch.
"What worries me is the reason some people are giving – that they are uncomfortable with that.
"Some persons can use the ongoing agitation to perpetrate crime; so for me, having the military around is not a bad idea,'' he said.
Gbakpo said that the recent disturbances in parts of Rivers could have been averted if the military were on ground.
Meanwhile, a security expert, Samuel Perekeme, has described the operation as unnecessary.
Perekeme, who said the operation was capable of creating tension and suspicion among people, urged the Federal Government to order an immediate end to the operation.
Another resident, Miss Nkem Kinika, a lawyer said that deploying military personnel to a particular region could only create a feeling of insecurity among the people.
"I think there are other ways of handling the situation at hand, it is definitely not by deploying armed personnel to the region.
"When military men are seen carrying arms, the signal it sends out is that of danger and insecurity.
"Therefore, government needs to think again,'' she said.