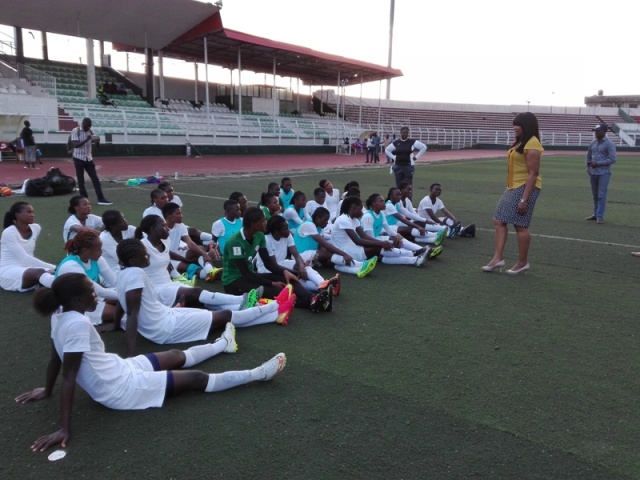 Jethro Ibileke/Benin
Ahead of the 2018 Under 20 Women's World Cup  qualifiers between Nigeria and Tanzania, the head coach of Falconets, Christopher Abdullahi, has boasted that he would win the first leg of the encounter to make the second leg a mere formality.
The Falconets will clash against their​ Tanzanian counterparts on Saturday, at the Samuel Ogbamudia Stadium in Benin.
Speaking with journalists after the team's evening training at the main bowl of the stadium on Thursday, Abdullahi said he hoped to set a new bar in qualifying matches of Nigeria.
"Nigeria has always set a bar in qualifying for every world cup and having 100 percent in their qualifiers. That is a bar we are here to equal and even surpass," he said.
Abdullahi who assured that there was no injury scare in his team, said everyone of his players was fit, ahead of the match.
The Under 20 women's national coach who would not want to be dragged into predicting a possible scoreline for the game, said he has respect for every team, but was quick to add that his team would win the Saturday match to make the second leg a mere formality.
"By the grace of God, with [their] teeming support, Nigerians should be expecting that we will win Tanzania so well that the second leg will be a formality," he added.
Meanwhile, the Chairperson of Nigeria Women's League, Aisha Falode, has drummed support for the Falconets, ahead of their Saturday's World Cup qualifiers against their Tanzanian counterparts.
Falode while speaking with journalists at the venue of Saturday's decisive game, lauded the Edo State Government for hosting the game.
She urged the Under 20 women players to spell Tanzania with goals on Saturday.
"We are very happy with what Edo State is doing for women football. Edo State Government is taking the initiative and the leadership role for receiving women's football in Nigeria.
"This is something we are very happy with, this is something we are very pleased with, that we have​ an Executive Governor and his Deputy who have opened their hospitality to us, to be able to once again, put women's football in the front burner in Nigeria. We are very excited about it.
"We have hope that this stadium will be packed full on Saturday to give the maximum support for our falconets. The only way we can reward Edo State that is hosting this match is to put up a sterling performance, a performance that will impact on the economy of Edo State.
"It will also send a message for the empowerment of the girl-child in Edo. It will give the opportunity for our young women a career in football," she said.
Commenting on the Women's Super Four tournament to be hosted by the State later this year, the Women's League boss said: "We are using the Super 4 to preach the message. We will also be engaging in some form of corporate social responsibility, where we will visit schools, talk to them about career and opportunities in football and we expect that the people of Edo will mobilize the youths to support the Super Falcons. It's a new dawn for women football in Nigeria."