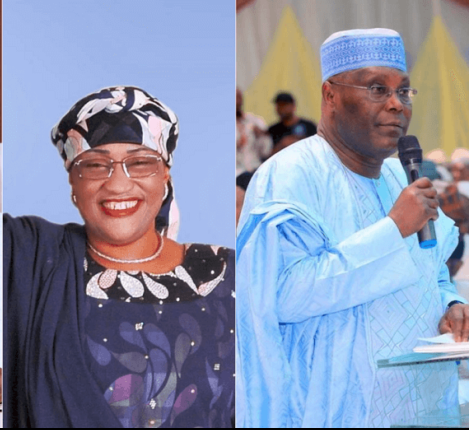 As a result of her public support for Nigeria's former Vice-President, Atiku Abubakar who she claimed is her godfather, Nigeria's Minister of Women Affairs and Social Development, Hajia Aisha Alhassan, who was summoned by her party, APC, over her political allegiance ahead of the 2019 presidential elections, reportedly apologized to the party over her comment which the party said were not well-thought out.
Confirming the essence of the meeting, spokesman of the party, Bolaji Abdullahi, said;
"Yes, the party invited her and she has come. When she came, we asked her to explain to us what truly transpired and in what context she said what she said and she did offer these explanations.
Now, having offered her explanations, we acknowledged that as a member of this party, she is entitled to her opinion and she is entitled to her choice.
However, as a senior member of this party, her statements represent an act of indiscretion because with the kind of position she occupies even within the party, she is a party leader in her own right, what she said was not what she was supposed to say at the time that she said it.
She ought to have exercised greater judgement than she did. She acknowledged that yes, maybe she ought not to have…maybe the timing was wrong and she apologised that if she had put the party in any difficult position, she apologised."