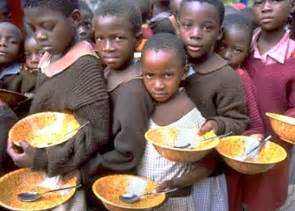 World hunger is rising after many years of decline, according to a UN report which shows that 815 million people did not have enough to eat in 2016, up from 777 million in 2015.
According to The State of Food Insecurity and Nutrition in the World, global hunger numbers fell steadily from 926 million in 2005 to 795 million in 2010, and broadly stabilised until last year's "worrisome" jump.
In terms of percentages, the share of the global population facing chronic food shortages has fallen from just under 15 per cent in 2000 to a low of 10.6 per cent in 2015.
The food shortage has increased to 11 per cent in 2016.
UN agencies blamed "violent conflicts and climate-related shocks" such as the El Nino weather phenomenon for "sharply" worsening food security in parts of sub-Saharan Africa, South-Eastern Asia and Western Asia.
South Sudan, where a famine was declared in early 2017, and north-east Nigeria, Somalia and Yemen, which have been classified as high risk of famine, were singled out as areas of particular concern.
Friday's report was a joint effort from UNICEF, the World Health Organisation, the Food and Agriculture Organisation, the International Fund for Agricultural Development and the World Food Programme.
They said it is "not yet clear" whether the increase in hunger rates is a blip or the beginning of a new trend, but it anyway "poses a significant challenge for international commitments to end hunger by 2030."
In absolute numbers, most of the world's hungry people -520 million, live in Asia.
But in relative terms, the hunger crisis is worse in Africa, where 20 per cent of the population – 243 million people, is affected. This rises to 33.9 per cent in Eastern Africa.
Among children under 5; 155 million are too short for their age, 52 million are too skinny for their age, and 41 million are overweight, the report found.
Obesity was said to be on the rise everywhere, affecting 641 million people, or 13 per cent of world's adults.
The UN agencies also lamented the fact that 613 million women of child-bearing age, about a third of the total, suffer from anemia, or iron-deficiency, which represents a health risk for them and their offspring.
Falling hunger rates have until recently been a major success story, largely thanks to rapid economic development in Asia.
Two years ago, the UN hailed the fact that more than 200 million people had been freed from hunger since 1990.