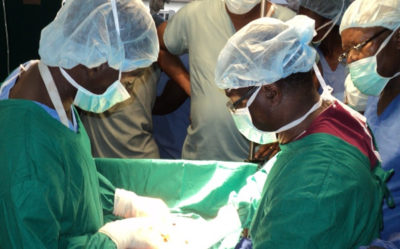 Patients at the National Hospital, Abuja, on Friday expressed joy over the resumption of work by members of National Association of Resident Doctors (NARD).
A cross section of the patients who spoke with the News Agency of Nigeria (NAN) said they were excited about the news of suspension of the 10-day strike by the doctors.
NAN recalls that NARD declared an indefinite strike on Sept. 4 to press home their demands for improved facilities, infrastructure and condition of service.
Mr Ayo Jide, a patient, told NAN that he was contemplating leaving the hospital to a private facility before the strike was called off.
Jide explained that the skeletal services rendered by the hospital management were not enough due to some obvious challenges.
Hajia Amina Mohammed, who brought her son for treatment in the hospital, said that she was full of joy hearing the resumption of duty by the striking doctors.
READ: Nasarawa state healthcare gets $500,000 boost
Mohammed stated that the difference was clear now that NARD members were back on duty.
Mr Johnson Ino, another patient who was referred from Owerri, Imo, to consult a doctor in the national hospital, told NAN that he spent not less than five hours last week before he was attended to by doctors because of long queue.
Ino disclosed that within two hours on Friday, he was attended to and commended government and the association for considering the plight of patients.
A NAN correspondent, who went round the hospital, reports that doctors are attending to patients.
Meanwhile, the NARD President, Dr Onyebueze John, told NAN that all the 75 government hospitals under the union had resumed work as directed.
John said that he had not received any report of anyone that had not complied to the directive given by the association.