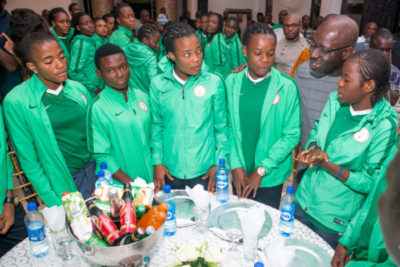 Governor Godwin Obaseki of Edo State has rewarded the Falconets with a cash gift of N5 million for beating Tanzania 3-0 in the U20 Women's World Cup qualifier in Benin City on Saturday.
Rasheedat Ajibade's brace and Lilian Tule's opener ensured Christopher Danjuma's ladies overcame their visitors at the packed Samuel Ogbemudia Stadium.
Mr. Obaseki, who hosted the delegation of Nigeria and Tanzania for a dinner party at the Banquet Hall, said hosting the encounter was to support women's football and bring back to the glory of sports.
He backed the Falconets to subdue the East Africans in the second leg in Dar-es-Salaam, adding that the cash donation was made to spur the girls to the next stage.
"Certainly, we hope to hosts the Falconets again. This is the first time in a long while we are hosting a national team," Mr. Obaseki told journalists.
"Edo State government believes in engaging youth through sports and hosting the girls will encourage other young ones to emulate them by building their talents.
"The standard of the match was very high and simply incredible. I was very impressed with the pace, style and accuracy of our girls.
"Certainly, they can see they are much better side – just that they need to be a lot more confident, stable and definitely, they are going to win in Tanzania.
"The donation is a token of support from the state government to the players for making us proud beating Tanzania and motivate them to win the second leg. We will be happy to welcome more teams in Benin."
He further assured that the state is ready to host this year's Nigeria Women Premier League Super Four tournament scheduled to hold from October 9-14 in Benin City, PREMIUM TIMES reports.