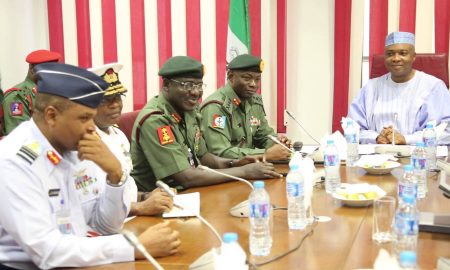 By Ifeanyi Nwoko (NAN)
The President of the Senate Dr. Abubakar Bukola Saraki has urged all Nigerians to maintain peace and avoid statements or actions that can threaten the peace of the nation.
This is even as the leadership of the Senate is set to meet with security chiefs over the tension in the South East as well as the skirmishes in Plateau State.
In a statement by his Special Adviser (Media and Publicity), Yusuph Olaniyonu, Saraki advised Nigerians to remain calm and not do anything that would aggravate the tension in some parts of the country.
The Senate's President who was reacting to the skirmishes in the South East and in Plateau state, said that the crises was not unconnected to the economic challenges of the nation.
"The tension in some parts of the country has its roots substantially in the economic situation.
"The nation should be assured that some of the legislative and executive actions taken to address the economic problems are beginning to yield fruits.
"That is why we recently witnessed the rebound of the economy and the exit of the country from recession."
"I want to appeal to our people to avoid stoking ethnic or religious fires. We should not deepen the fault lines of our nation and place citizens in danger of violence and sustained crises.
"The government requires the support of all Nigerians and we should please give peace a chance. No real development or genuine economic activity can take place in the midst of crisis or tension.
Investments and development thrive only where there is peace," he said.
Saraki advised Political, Social and Religious leaders to take actions that will douse the tension and reassure the people that the best way is for us to live together in peace, harmony and co-operation.
"All leaders at this point must canvass support for government and preach peace, love and harmony.
"The Senate leadership will soon meet with security chiefs and we will work for the promotion of dialogue as well as peaceful resolution of all contentious issues.
"Once again, I plead with our people to avoid taking laws into their hands or antagonizing our neighbours ", he said.