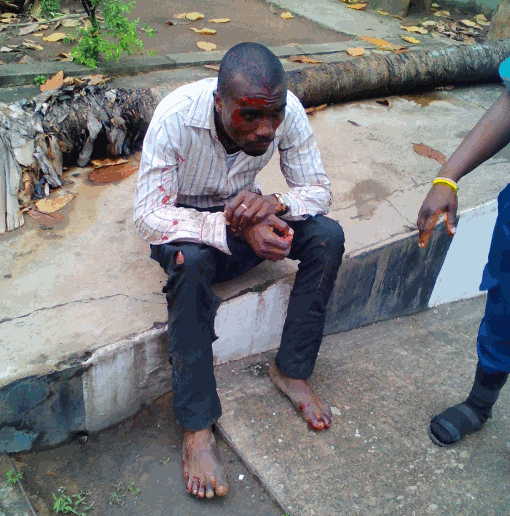 Jennifer Okundia
In what seemed like a road drama at about 10:30 am today, Ogba residents were not prepared for the incident that would take place in their environment.
A hit and run pick up driver bashed the vehicle of another driver and attempted to escape. The driver who refused to relent gave the pickup driver a hot pursuit. He later caught up with the driver and climbed onto his vehicle demanding he pay for damages.
While the offending driver was trying to hold brakes to make the man fall off his truck, the pursuer ended up with injuries all over his body and the erring driver sped off.
Some police officials on duty on Ogba road axis, opposite Big Treat hastily waved down a bike, one belonging to a dispatch rider and the other a commercial commuter and pursued the van driver until luck ran out on him at the traffic light at Aguda bus stop where he was finally apprehended.
An eyewitness who refused to be identified told Pmnews that "The van driver is a very wicked man, seeing how he kept on speeding and holding brakes, knowing a man was hanging onto his moving truck . she stated that after the man landed on the major road unconscious for almost 30 minutes and causing traffic, onlookers who had gathered around the scene actually thought he was dead.
The injured man has since been taken to the hospital by well meaning Lastma officials who witnessed the incident.

Load more