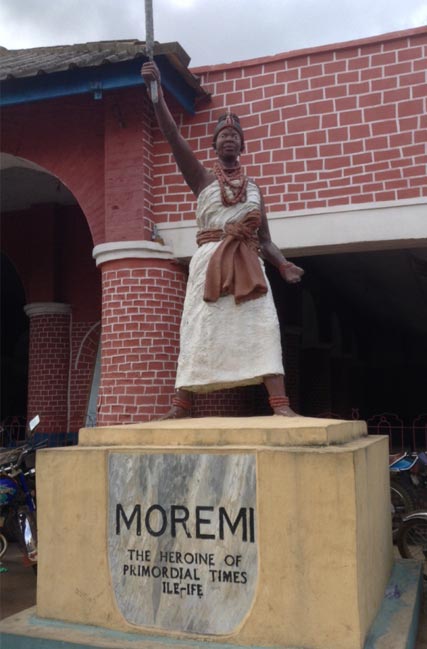 A veteran fashion designer in London, Mary Martin will join eight Nigerian fashion designers to kit the 2017 Queen Moremi Ajasoro (QMA) cultural pageant in London, Princess Ronke Ademiluyi has said.
Ademiluyi, ambassador to QMA and founder of Africa Fashion Week, Nigeria and London spoke on the upcoming Miss Moremi Ajasoro Cultural Pageant in December.
The cultural promoter said that the fashion labels for QMA that would also feature in the African Fashion Week in London are Becca Apparel, Godwin Green, Luvita Creations, BgCouture, Moshuga, Stiches, Blingshiki and Mary Martin London.
"These fashion labels will be creating several looks and outfits for the 35 lucky girls who will be shortlisted out of over 500 registered contestants in QMA Pageant in December," she said.
According to the global ambassador for the project, the designers will tap into the cultural trends of the Yoruba heritage to create contemporary styles for the contestants.
"The veteran London fashion label, Mary Martin will be one of the designers that will be showcasing their designs by kitting the contestants in an African style.
"Mary Martin of Duo Origin, Nigerian and Caribbean, who studied fashion in London, also featured in 2015 Mercedes Benz International Fashion Week in Accra, Ghana, and honoured the best designer in Africa will be there too.''
She said that "Becca Apparel" though an upcoming Nigerian designer, also a London-based fashion label, focused on combining African prints with contemporary trends to create a unique style for women.
"The other Nigerian designers include, Blingshiki, unconventional fashion, hippie, futuristic and Africa-inspired label, Godwin Green Couture, Lagos based, and STITCHES, a unique peculiarity with an unequalled vibe, zeal and passion.
"Others are BG Couture, exclusively for men and woman in quintessentially Nigerian look, MOSHUGAH, specialised in women's wears, Luvita Creations, combines African prints and western fabrics for men and women," she told NAN.
Ademiluyi, who is also a lawyer, noted that all the selected designers were known for their unique styles, tailored toward promoting African fabrics and designs.
"The QMA Pageant was designed not only to promote beauty and culture but also to empower young ladies between the ages of 18 and 25," she said.
Meanwhile, Ademiluyi said that the outgoing queen, Animasahun Blessing, a final year student of the Department of Dental Surgery, University of Ibadan, from Ila-Orangun, Osun state had visited over 10 schools during her reign.
"Animasahun has been involved in a lot of activities during her tenure which include visits to motherless homes, health awareness, secondary schools outreach and enlightenment on careers, skill acquisitions and on rape.
"She also visited the UK to promote our culture and tradition and is currently working on visit to handicapped schools and supporting their basic needs in giving back to the society.
"She will be launching Child Alive Foundation, which will involve empowering children from ages zero to 18, renovating schools, encourage girl child education and to bring out the talents embedded in them," she said.