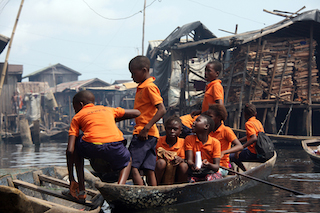 The Infrastructure Concession Regulatory Commission (ICRC) on Tuesday called for proper planning of Nigerian cities to address the challenge of slum proliferation.
The Director-General, ICRC, Mr Chidi Izuwah, made the call in Abuja at a one day High-Level Policy Dialogue on Pro-Poor Public Private Partnership (PPP) Housing Programme.
Izuwah said any society that was not well planned and structured, and yet underwent rapid population increase was bound to face urban decay.
He added that urban decay caused rapid urbanisation and mismatch in the provision and maintenance of housing and infrastructure.
The ICRC director-general emphasised the need for government to implore cost effective strategy like PPP to turn slums into affordable mass housing areas with good drains, electricity and other basic amenities.
READ: United Nations to upgrade slums in Nigeria
He noted that "for this to happen, we must launch a war against bad infrastructure. If we don't kill our infrastructure deficit, that deficit will kill us. Housing is key for a stable society.
"Any society with high rate of poverty cannot be politically stable.
"Affordable housing means you shouldn't spend more than 40 per cent of your annual earnings on housing.
"Therefore, in Nigeria where minimum wage is N18,000 a month, one should be able to afford a decent house by saving N7,200 a month."
Izuwah said that through PPP, investing in housing sector would have ripple effect on the economy.
"It will create jobs for plumbers, electricians, painters and even food sellers and hawkers.
"Anywhere there is massive construction taking place, a community develops around it.
"Even the woman who sells roasted plantain is able to become rich from sales to those who are building.
"So, that is how powerful investing in the housing sector can be."
Inadequate housing for the teeming Nigerian population estimated at over 180 million was
getting more complicated as slums continue to spring up in almost every available vacant land.
Load more