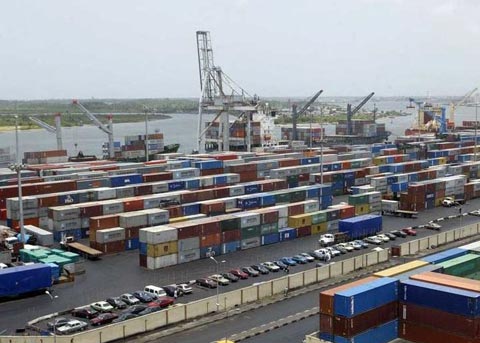 The Shippers' Association Lagos State (SALS) on Tuesday said the country lost N1 trillion annually through cargo diversion to ports in neighbouring countries due to bad roads to Lagos ports.
Mr Jonathan Nicol, SALS President, told the News Agency of Nigeria (NAN) in Lagos that the losses arose from import duties and other charges not paid to Nigerian ports.
According to him, there is massive diversion of Nigeria-bound cargo to ports in neighbouring countries due to bad access roads to Lagos ports.
The shippers said that demurrage, terminal charges and storage fees incurred by shippers ran into billions of naira daily.
"There are also queue of vessels within the Lome waters awaiting call-up for berthing in Lagos ports.
"This will attract port congestion levy on cargo, which is no fault of the shippers (importers and exporters).
"Demurrage on containers is increasing with no control from maritime agencies. Importers and exporters are suffering,'' he said.
Nicol called on the contractor handling the rehabilitation of the access roads to Apapa ports to expedite action to reduce problems encountered by shippers and truck owners.
"Industrialists are incurring huge expenses on haulage due to lack of access roads and they are counting more losses daily.
There is no entry into Lagos ports and no access out of the ports after loading,'' the shipper said, adding that truck drivers remained on queue for several days.
He, however, commended Dangote Group, Flour Mills of Nigeria Plc and Nigerian Ports Authority (NPA) for their assistance in rehabilitating access roads to Apapa ports.
"It should be noted that they (Dangote and Flour Mills) are industrialists going the extra mile to keep the maritime industry afloat,'' the shippers said.
Nicol said that the export initiative of the Federal Government was also under threat as export goods spent several days before arriving at the ports.
To avert congestion, he suggested that the backlog of goods at the ports should be cleared.
According to him, the port congestion of the past is mounting again and may lead to prolonged litigation on who pays the charges.
Nicol advised that empty containers inside the ports should be exported as a priority.
He, however, said that the association would not subscribe to the idea of moving containers released at the ports to Papalanto in Ogun.
"The cost of moving such boxes (containers) to factories in Lagos and other places will be too high.
"Cargo taken to Papalanto will be treated as up-country cargo and will attract high haulage fees,'' Nicol said.