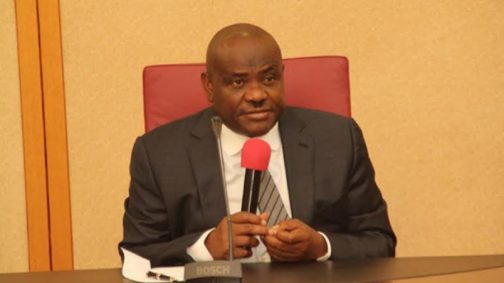 Okafor Ofiebor/Port Harcourt
Rivers State Governor, Nyesom Ezenwo Wike has called on the 54 contestants of the Miss University Africa to serve as ambassadors and promote the state as a centre of peace, development, unity and sustained growth.
Speaking at the Government House, Port Harcourt when he granted audience to the contestants, Governor Wike described their presence in the state as a positive testimony and endorsement of Rivers State.
"We must express our gratitude to you for coming to Rivers State despite the negative propaganda unleashed on us by the APC Federal Government.
"As you return to your respective countries, we urge you to serve as ambassadors of Rivers State. Tell people about the beauty and peace of Rivers State. Tell them that the negative propaganda is politically motivated," he told the contestants.
He expressed satisfaction with the infusion of charity works in the pageant, assuring that the government will support the beauty queens in the venture.
The governor took out time to explain the structure of government in Nigeria and Rivers State.
"Move around and enjoy the beauty of Rivers State. Make sure that you anchor at Port Harcourt Pleasure Park. This is a tourist state, with a hospitable population. After now, you will desire to return to Rivers State," Governor Wike said.
Earlier, the Managing Director of Visions, Innovations and Concepts, organisers of the pageant, Mr Taylor Nazal praised Governor Wike for accepting to host the 54 African countries.
He said that contrary to the negative media against Rivers State, the contestants and organizers have found Rivers State peaceful.
"Since we came to Rivers State, we have witnessed an atmosphere of peace. This event would put Rivers State on the global stage", Mr Nazal said.
He said: "This is a non-Bikini event aimed at discouraging indecent dressing. That is why we have both Muslim and Christian countries participating in this beauty pageant.".
Nazal said that the contestants will engage in Charity works across Port Harcourt. He identified the activities as visits to hospitals, elderly people homes and orphanages.
"They call you Mr Projects and we have seen several projects across the state. This is a project that is empowering women in the continent," he added.
Miss University Africa (Nigeria), Opara Ibinabo, a student of University of Port Harcourt, commended Governor Wike for providing the platform for 54 African countries to gather in Rivers State.
As a show of respect, each of the beauty queens presented gifts to the Rivers State Governor.
Governor Wike later took the contestants on a guided tour of completed projects at the Government House Port Harcourt.

Load more