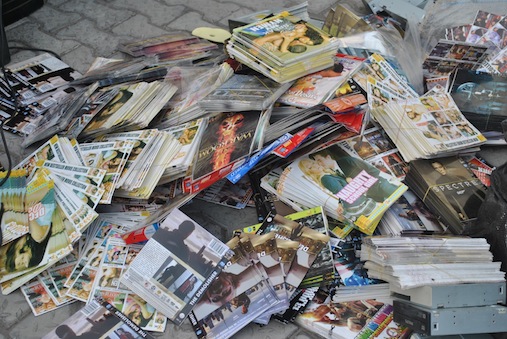 The National Film and Video Censors Board (NFVCB) has seized pirated materials worth N150 million at Alaba International Market in Lagos and arrested five suspects.
Mr Adedayo Thomas, the Director-General (DG) of the board told the News Agency of Nigeria (NAN) in Lagos on Thursday that the seizure was made between May and October.
He said that the pirated materials seized include: CDs, Videos CDs and literary works.
Thomas mentioned that the seizure followed the information the board gathered from some people at the market, regarded as the hub for piracy.
"We have our informants that spy the market on a regular basis, once they notice any form of piracy operations going on there, they inform the board.
"The seizure of the N150 million worth of materials is a result of the information giving to the board on the mass productions of some films that are yet to be made public.
"When our anti-piracy squad assisted by some police men got to the market, we saw pirated copies of films yet to be produced littering the whole environment and were being sold at cheaper prices.
"By Nov. 30, the board will start the court proceedings of those arrested for piracy,'' he said.
The Director-General likened piracy to a murder case, robbery or economy sabotage where the suspect wanted to reap where he or she did not sow.
He said that the legitimate owners were usually subjected to huge debts and loss.
"The board is going hard on piracy. We are working seriously to reduce piracy to its barest minimum in our environment.
" The board will go on street campaigns and to secondary schools to enlighten them not to patronise pirated materials and explain the implications of doing so on the rightful owners,'' he said.
Thomas also said that the board also frowned at nude movies adding that it was not part of its culture.
He added that nude movies always had negative impacts on the lives of the masses and an abuse on the society.
"We are not going to accept that as we had not done in the past. We are going hard in banning such movies from being shown on air,'' he said.
Thomas said that the board was also looking at reviewing some of its policies and laws to suit contemporary situations.
He advised Nigerians not to buy pirated materials on the streets or from any unlicensed people selling such works.
The DG said that the industry was worth billions of naira, and urged government and stakeholders to utilise the opportunity in the sector judiciously.
"The industry is generating billions but losing more to piracy.
"Actors, actresses, producers, marketers and other stakeholders are not happy with the loss to piracy.
"The board is doing all it can to sanitise the industry for producers, film makers and other relevant stakeholders to enjoy the fruits of their labour,'' he said.

Load more