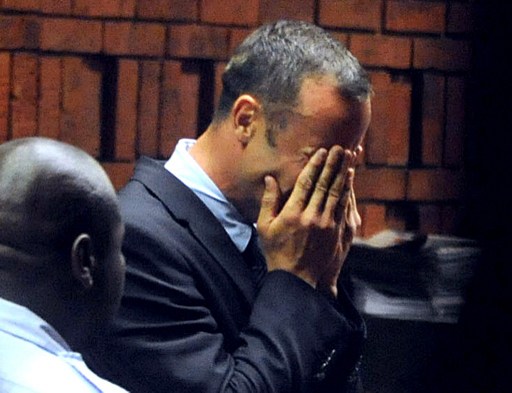 A South African court on Friday, increased Paralympian Oscar Pistorius' jail sentence from six years to 13 years and five months for murdering his girlfriend, Reeva Steenkamp.
"The appeal against sentence is upheld … The respondent is sentenced to imprisonment for a period of 13 years and five months," Judge Willie Seriti said.
The audience in the courtroom reacted to the judgment by audible gasps.
''The 31-year-old sprinter, who was not present during the ruling, should have been sentenced to 15 years but the court took into account the time Pistorius had served.''
"I am of the view that there are no substantial and compelling circumstances which can justify the departure from the prescribed minimum sentence."
"The previous sentence of six years' imprisonment is shockingly lenient to a point where it has the effect of trivialising this serious offence," Seriti said.
The minimum sentence for murder in South Africa is 15 years.
''The state prosecution had appealed the sentence earlier this month, saying that Pistorius' punishment was too lenient.
"Through this process, it must now be clear that we are all equal before the court,Justice was done," Prosecutor Gerrie Nel said.
Pistorius' brother, Carl, said on Twitter that he was "Shattered. Heartbroken. Gutted", in response to the ruling.
There has not been any response from the Steenkamp's family as at the time of this report.
In 2015, in a case that gripped South Africa and the world, Pistorius was found guilty of the Valentine's Day murder of his girlfriend, the model Reeva.
The prosecution had argued that Pistorius' disability should not have been a mitigating factor and that the athlete, who wept regularly throughout the trial, had not shown genuine remorse.
The South African double-amputee sprinter, known as the "Blade Runner," maintains he believed Steenkamp was an intruder when he shot her through the bathroom door.
It was the second time the prosecution had appealed.
Pistorius was originally found guilty of culpable homicide with a five-year jail term, but this was changed to murder on appeal.
The sprinter, whose lower legs were amputated because of a congenital defect, soared to international fame after becoming the first amputee to compete in the 2012 Olympic Games in London.

Load more