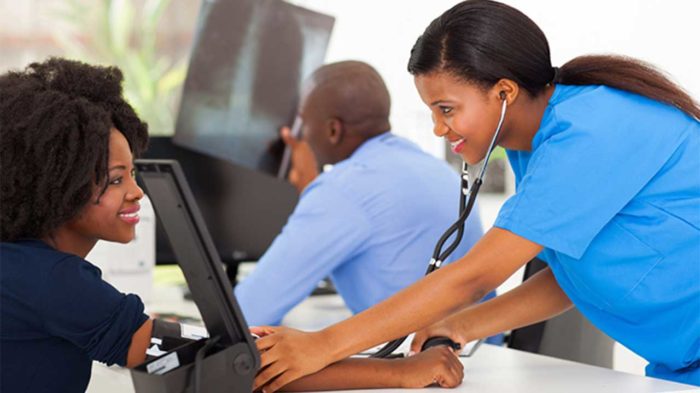 program Director of Caritas Nigeria, Dr Amana Effiong, on Friday, advised Nigerians to seek medical care regularly to avoid sudden death from various health complications.
Effiong, who gave the advice during medical outreach to Durumi community, as part of activities to mark Caritas Nigeria at seven in Abuja, listed such complications to include high blood pressure, diabetes among others.
"The underprivileged communities are usually ignorant of their health and that is why we are here to give some free medical checks to the people in the community.
"Caritas is seven, we are celebrating to give back to the community around us, and we are focusing on health, specifically on voluntary blood donation through the National Blood Transfusion Service (NBTS).
"Free medical check for blood sugar, blood pressure, malaria, typhoid test and eye checks," he said.
He said though some Nigerians attributed sudden death to spiritual attack, he added that this could be as result of the silent killer disease like High Blood Pressure (HBP) and diabetes complications.
Similarly, Mr Peter Ehigie, Deputy Head of Blood Donor Recruitment Department, NBTS, called on Nigerians to develop a culture of donating blood voluntarily.
He said blood donation was essential, saying it is a means of giving life to those facing challenges in the hospitals.
Also, Rev. Fr Uche Obodoechina, Deputy Executive Secretary of Caritas Nigeria, said the organisation had held similar health outreaches and hopes to reach out to more underprivileged communities.
One of the beneficiaries, Miss Christina Nwabueze said that the medical check by Caritas Nigeria was necessary as many in the community do not know their health status.
Mr ThankGod Samuel, also a beneficiary said it was a good initiative to help other people.
Catholic Caritas Foundation, also known as Caritas Nigeria, is the specialised socio-development and humanitarian agency of Catholic Bishops Conference of Nigeria (CBCN) established in 2010.
Its objectives include fighting hunger, diseases, ignorance and responding to humanitarian crisis and emergencies by mobilising resources from within and outside the church to basic needs of vulnerable persons regardless of religion, nationality or ethnicity.
Load more