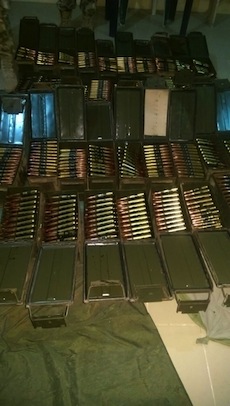 The Civil Society Legislative Advocacy Centre (CISLAC), a Civil Society Organisation (CSO), has called for the establishment of an anti-corruption unit in the Nigerian military to check arms trafficking.
Executive Director of the organisation, Mr Auwal Rafsanjani, made the call on Tuesday in Abuja at the presentation of Sustainable Development Goal 16 `Shadow Report 2017', organised by CISLAC and Transparency International.
Rafsanjani said that the unit when created should be mandated to investigate suspicious weapons sales from military stock piles.
He said that the report which offered an independent review of the government-led National Voluntary Review (NVR) SDG process in Nigeria, recommended synergy between the public, the police and the military.
He said that such collaboration would lead to the prevention of massive loss of life and property to terrorism and rampant crime in Nigeria.
"More progress needs to be done to curb arms trafficking and organised crime.
"In spite of the ratification of the protocol against illicit manufacturing and trafficking in firearms, Nigeria still receives around 70 per cent of 500 million illicit weapons coming to Africa.
"Due to the secretive nature of the defence budgets and insufficient oversight of law enforcement agencies, the Nigerian police and military have a reputation of heavy-handedness and poor respect to rule of law.
"Complete lack of transparency in the procurement of military equipment, overpricing, purchase of obsolete and dysfunctional weapons, were symptoms of estimated loss of 15 billion dollars in the defence budget between 2000 and 2015.
"An anti-corruption strategy for the defence sector and the police, effective civil and legislative oversight of defence spending will help to curb terrorism,'' Rafsanjani said.
He said that the report called for the abolition of secretive relics within the military budgets such as `secret votes' and to enhance monitoring of the implementation of the Anti-Terrorism and Anti-Piracy Acts.
The director said that there was need to provide capacity-building for internal auditors within the military, the police and the legislature to prevent and detect organized crime incursions, especially corrupt practices.
He also stated that there was need to make military and police assets sales transparent and open to public scrutiny, adding that it was necessary to improve police and Customs weaponry stockpile management.
Rafsanjani called for the extension of the Procurement Act to provide a legal framework for defence procurement and asset disposals, adding that alternative legal provisions could be drawn to regulate such activities.
He also called for the introduction of an anti-corruption policy to the Nigeria Immigration Service and Nigerian Customs Service.
He added that Federal Government should expeditiously approve the Money Laundering Prevention Bill and the Mutual Legal Assistance in Criminal Matters Bill to achieve SDGs' "Target 16.4'' to reduce illicit flow of cash.
"There is need to also intensify bilateral and multilateral agreements with the aim to prevent, detect and deter the international transfer of proceeds of crime and funds of illicit origin,'' he said.