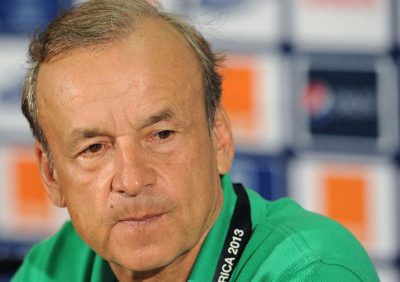 President of the Nigeria Football Federation (NFF), Amaju Pinnick, on Tuesday explained the federation's motives in offering Super Eagles Technical Adviser Gernot Rohr a contract expansion.
"The Federation leadership's resolve to ensure there were no distractions of any size or complexion around Nigeria's 2018 FIFA World Cup preparation and participation informed the offer of a fresh two-year contract to Rohr,'' he said.
Rohr was signed by the NFF in August 2016 and has met the first milestone of his contract, which is ensuring the Eagles qualify for a sixth FIFA World Cup finals.
Nigeria thoroughly overhauled their opponents, spanking 2012 AFCON winners Zambia home and away.
The Eagles also earned four points from home-and-away clashes with fellow 2014 World Cup finalists Cameroon and Algeria, leaving second-placed Zambia six points behind the Super Eagles.
"We have decided to confront head-on any possible area of conflict or controversy, and fully resolve each and every possible friction point well ahead of the competition.
"After signing the agreement on payment to the team from expected FIFA income, the next stage was to take care of the Technical Adviser.
"He has done very well and does not need to go into the World Cup uncertain of his future," Pinnick said in a statement released by the NFF on Tuesday.
READ: Eagles goalkeeper Ezenwa dumps FC Ifeanyi Uba
The 64-year old Rohr, a former Germany defender, flaunts a sterling record with the Eagles, winning seven of 12 matches and drawing four in his 15 months in charge so far.
His only loss was the 0-2 reverse to South Africa's Bafana Bafana in a 2019 AFCON qualifier in Uyo in June 2017.
Under him, the Eagles have beaten Tanzania, Zambia (twice), Algeria, Togo, Cameroon and two –time world champions Argentina, and drawn with Senegal, Corsica, Cameroon and Algeria.
ROHR'S RECORD
03/09/2016: Nigeria 1 Tanzania 0 (AFCON Qualifier, Uyo)
09/10/2017: Zambia 1 Nigeria 2 (WC Qualifier, Ndola)
12/11/2016: Nigeria 3 Algeria 1 (WC Qualifier, Uyo)
23/03/2017: Nigeria 1 Senegal 1 (Friendly, London)
27/05/2017: Corsica 1 Nigeria 1 (Friendly, Ajaccio)
01/06/2017: Nigeria 3 Togo 0 (Friendly, Paris)
10/06/2017: Nigeria 0 South Africa 2 (AFCON Qualifier, Uyo)
01/09/2017: Nigeria 4 Cameroon 0 (WC Qualifier, Uyo)
04/09/2017: Cameroon 1 Nigeria 1 (WC Qualifier, Yaounde)
07/10/2017: Nigeria 1 Zambia 0 (WC Qualifier, Uyo)
10/11/2017: Algeria 1 Nigeria 1 (WC Qualifier, Constantine)
14/11/2017: Argentina 2 Nigeria 4 (Friendly, Krasnodar)