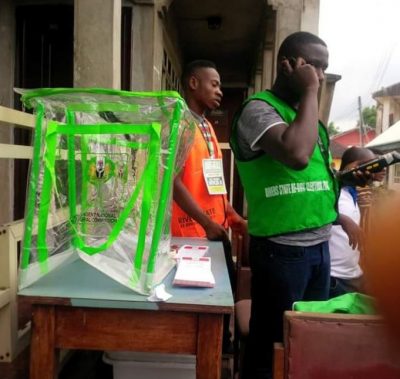 The Police Command in Akwa Ibom said on Wednesday that it would deploy 15, 000 personnel to monitor the Saturday local government council election in the state.
The Police Public Relations Officer in the state, DSP Bala Elkana, disclosed this in Uyo while briefing newsmen on the command's preparedness for the Dec. 1 poll.
Elkana said that the command had mapped out strategies to ensure a free, fair and violence-free exercise.
He explained that at least two policemen would be in charge of each polling unit to ensure a hitch-free election process.
He said that conventional policemen without arms would be at the inner circle of the polling units while the armed ones would be at the outer circle to respond to distress calls.
"We are deploying 15, 000 policemen for the Saturday election; every polling unit will have a minimum of two police personnel.
"Depending on the total number of registered voters, some polling units will have larger numbers of police personnel," Elkana said.
The command's spokesman said special attention would be given to conflict-prone areas such Etim Ekpo and Ukanafun Local Government Areas which had experienced serial killings in recent times.
According to him, there will be heavy presence of security personnel in the two local government areas and other security flash points so as to nib violence in the bud.
He said police helicopters would be deployed for aerial surveillance, adding that marine police, in collaboration with the Nigeria Navy, would take care of the coastal areas.
Elkana warned politicians, especially political officeholders, not to go to the polling units with their armed details during the exercise.
He stressed that all politicians must drop their armed details at a very far distance to the polling units before entering the voting arena.
He also warned policemen attached to this group of people to behave professionally, during and after the election, stressing that any officer found wanting would be trialed and dismissed accordingly.
He said, "The police will not tolerate any armed detail violating this order. They are policemen and they should know that professionally, they cannot follow their principals to the polling units with arms."
The police public relations officer also advised parents to monitor their children and wards, especially those ones that may likely be used by politicians as thugs.
According to him, the law enforcement agents were fully prepared to handle all political thugs during and after the elections.
"Anyone, who thinks he has firearms and wants to come out as political thugs should get the warning clear.
"The police had ordered that anyone coming to the poling units with arms should be shot at sight. If you are armed, you are no longer a civilian," he warned.
He assured the residents that the police had also prepared for post-election activities, adding that adequate strategies had been put in place, to forestall any post-elections violence as was experienced in 2011.
Akwa Ibom residents will go to poll to elect 31 local government chairmen and 329 councilors.