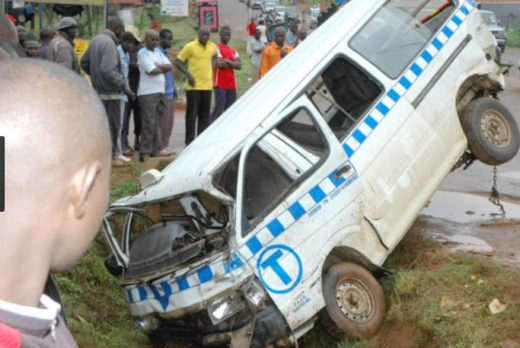 Jethro Ibileke/Asaba
Fifteen passengers have escaped death in a serious motor accident which occurred on Thursday in Asaba, Delta State.
Six persons, including a woman, were seriously injured in the accident.
The incident occurred less than an hour after the State Command of the Federal Road Safety Commission (FRSC), flagged-off its 'ember' month safety campaign for 2017.
The accident which involved an 18-seater Toyota bus marked AAA 217 PF, coming from the Agbor direction of the Benin/Onitsha highway, occurred at the Asaba airport junction, when one of the back tyres of the bus pulled off while on top speed.
The bus which had 15 passengers in it at the time of the accident, was said to have somersaulted severally, before skidding into the roadside bush.
Earlier, while flagging-off the ember month safety campaign with the theme "Right to Life on the Highway is not Negotiable," the State Sector Commander, Mr. Rindom Kunven, appealed to motorists, especially commercial drivers, to avoid over-speeding, over-loading, alcohol, worn-out tyres and use of cell phones while driving and to also obey other traffic rules for their safety and that of their passengers.
He noted that it was a myth to believe that 'ember' months were associated with vehicular crashes, adding that such mishaps could be avoided if motorists took extra care on the road.
Kunven said no doubt there was usually an increase in activities during the 'ember' months period, even as he warned motorists/parents who put their children of less than 12 years on front seat of their vehicles or carry kids on their laps while driving to desist from such act.