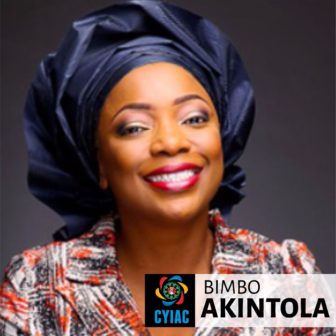 An award winning actress and a notable Director of both TV Series and movies, with the most versatile characters in the Nollywood movie industry has another title to her repertoire.
Bimbo Akintola has been appointed Goodwill Ambassador for Creative Youth Initiative Against Corruption (CYIAC) to raise global awareness and promote culture of integrity, curb corruption among children, youth and adults through creative, innovation and entrepreneurship development in Nigeria and Africa.
CYIAC campaign is focusing on corruption; which is the biggest impediments to achieving Sustainable Development Goals.
CYIAC strategy is to promote creativity, develop talents and build confidence whilst encouraging culture of integrity.
At CYIAC, children and youth are provided with capabilities they require to become economically productive, develop sustainable livelihoods, contribute to peace, justice and strong institutions and take bold steps in creating the future they desire through creative thinking and innovation.
Bimbo is a philanthropist who has dedicated her time and capital resources to helping those in need. In 2013 she took part in a walk to raise awareness for Breast and Prostate Cancer which took place in Lagos and a walk for Autism awareness in Abuja in 2014. Every year Bimbo finances and hosts a Christmas party for Children with special needs. Her passion to lead change in children and youth began in February 2017 on the platform of Vision of the Child. She continues her award winning career, spanning Nollywood, television as well as life theatre. She is one of the few Nollywood actresses who have extensive credits coupled with moral values in both Nollywood and on stage.
Bimbo with other notable achievers and game changers will officially launch CYIAC Corruption Busters (CCB) on December 9, 2017 to mark United Nations International Anti-Corruption Day.
The CCB is CYIAC's contribution towards achieving global goals in 2030. In line with Sustainable Development Goal (Goal 4, Goal 5, Goal 16, and Goal 17), CYIAC will promote culture of integrity and ensure communities are free from corruption through educational development in Literary Arts, Paintings, Drama, Digital Communication, Entrepreneurship, Innovation and Information Technology.
CCB educational series will be available for free download globally through CYIaC App and website- www.cyiac.com- on December 9, 2017,. The event will also be streamed live for wider participation through virtual engagement.

Load more