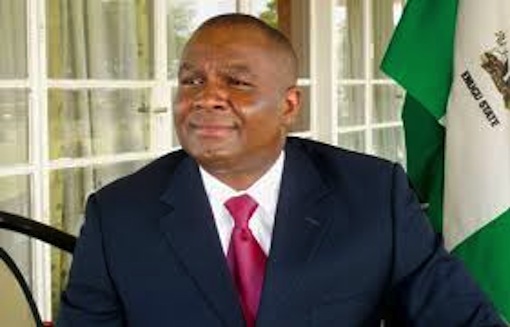 Akin Kuponiyi
A Federal High Court in Ikoyi, Lagos, Southwest Nigeria on Thursday adjourned till 4th of December, 2017 when the former Governor of Enugu State, Dr. Chimaroke Nnamani will be re-arraigned before the court by the Economic and Financial Crimes Commission (EFCC) for alleged money laundering of N4.5 billion during his tenure as the governor of the state
When the case was mentioned on Thursday, a lawyer M. Bamidele from the law firm of Ricky Tarfa who represented the defendant told the court that his chamber was served with hearing notice six days ago, but that the time was too short for Nnamani to be in court as the defendant was not in the country and that they have not been able to get in touch with him.
The prosecutor, Kelvin Uzozie was also not in court, but wrote a letter to the court asking for adjournment; consequently the court adjourned till 4th of December, 2017, when the former governor would be arraigned.
However, the defense counsel Bamidele, objected to the date, on the ground that it might be difficult to get in touch with the defendant before that day but the Presiding Judge, Prof. Chuka Obizor frowned at his objection, as he observed that this might be a ploy to delay the trial, as he claimed that the case has just been assigned to him, therefore the counsel should take steps to make sure that his client come back to face trial.
thereafter Justice Obiozor adjourned till 4th and 14th of December, 2017 for arraignment and trial.
This fresh arraignment is coming ten years after the ex-governor and others were first arraigned before the court in connection with the alleged offence.
Nnamani was earlier arraigned before Justice Tijani Abubakar and re-arraigned before Justice Charles Archibong when Tijani Abubakar was elevated to court of appeal and later re-arraigned before Mohammed Yinusa when Justice Archibong retired.
The former governor was re -arraigned on a 105-count charge of money laundering and economic crime to the tune of N4.5 billion.
The case has just been reassigned to Obiozor to start afresh.
The ex-governor was arraigned before the court alongside his ex-aide, Sunday Anyaogu and six firms linked to them.
They are: Rainbownet Nig Ltd, Hillgate Nig Ltd, Cosmos FM, Capital City Automobile Nig Ltd, Renaissance University Teaching Hospital and Mea Mater Elizabeth High School.
Mr Bamidele told the court that as of today, only Nnamani was the only defendant in the charge as the companies have been convicted.
The financial impropriety was alleged to have been committed while Nnamani held sway as governor of Enugu state between 1999 and 2007.
Nnamani, according to the charge, was alleged to have conspired with other accused persons to launder various statutory allocations of some local government areas of Enugu State.
The local governments are: Aninri, Enugu South, Agwu, Igbo Etiti and Isi Uzor.
In count nine, Nnamani was alleged to have stolen N1.4 billion from the Excess Crude Oil Funds allocated to the local governments in the state.
Besides, the former governor, through the help of one Chinero Nwigwe, who is now at large, was alleged to have fraudulently transferred millions of dollars of Enugu State funds to his personal accounts in the United States of America.