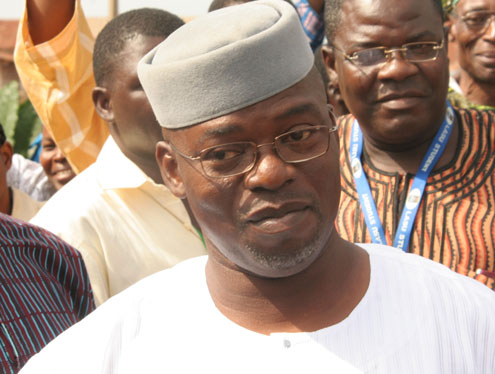 Mr Segun Oni, one of the APC governorship aspirants for the 2018 election in Ekiti will wean the state from dependence on the monthly federal allocation if elected governor.
The Director-General, Segun Oni Campaign Organisation, Dr Ifeoluwa Arowosoge, told the News Agency of Nigeria (NAN) in Lagos that Segun Oni would bring social and economic emancipation to Ekiti State.
25 aspirants that included Oni had shown interests to contest for the Ekiti State governorship ticket on the platform of the All Progressives Congress (APC).
Oni, the current Deputy National Chairman (South) of the APC was a former governor of Ekiti before the Court of Appeal nullified his election.
Arowosoge said, "Our candidate's expectation is very high because he has tested the pulse of the people of Ekiti and he knows that the people want him.
"As a former governor, his past antecedents will speak volume for him.''
He told NAN that the state public servants and retirees enjoyed the dividends of democracy during Oni's previous tenure.
Arowosoge said based on that reason, the people were yearning for his return as their governor come 2018.
He said that Oni would also focus on generating jobs for the teeming youth population of the state because he believed they were the future leaders of the country and the state.
"During his tenure as governor, he employed 4,000 youths into the state civil service.
"If youths are gainfully engaged, crime rates in the state will reduce drastically,'' Arowosoge said.
He also said that Oni's administration would invest in the agricultural sector so that farmers in the state could export their farm produce.
He added that prompt payment of workers' salaries would also be paramount to Oni if Ekiti voters should elect him as their next governor.
According to Arowosoge, Oni's administration would also provide the people of the state pipe-borne water, boreholes, electricity and good road network.
The director-general said that Ekiti State was not being properly managed by the present administration.
He said that the state civil servants and lecturers of the state owned tertiary institutions had not been paid salaries for some months.
Local government workers were being owed salaries and allowances since January, he said.
"The present administration has not managed well the bail-out funds released by the Federal Government to Ekiti State Government for the payment of its workers outstanding salaries ,'' he alleged.