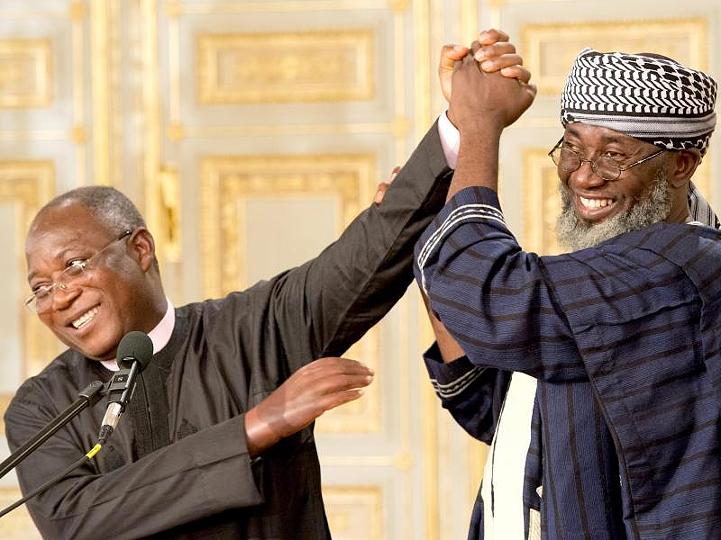 Two distinguished Nigerian clerics, Pastor James Wuye and Imam Muhammad Ashafa, have won the 2017 Intercultural Innovation Award, an international award held at the UN headquarters.
The two Nigerian clerics were among the 10 recipients of the award, out of which five awardees were from Africa, namely Nigeria, Egypt, South Africa, Tunisia and Uganda.
The others were from Argentina, Ecuador, Israel, Northern Ireland and Pakistan.
Wuye and Ashafa are Co-Executive Directors of Interfaith Mediation Centre, Kaduna, an organisation that engages in interfaith dialogue and relations in Northern Nigeria.
The Intercultural Innovation Award is a partnership between the United Nations Alliance of Civilization (UNAOC) and BMW Group that selects and supports innovative intercultural grassroots projects.
It is 'a celebration of the most innovative grassroots projects that encourage intercultural dialogue around the world'.
The Pastor's and Imam's project that was nominated for the award is 'Transforming pastoralist-farmer conflict in Nigeria'.
According to the Award, "A combination of resource-based and ethno-religious conflict is causing many hundreds of fatalities each year in Nigeria and displacing tens of thousands of people from their homes and farms.
"Imam Ashafa and Pastor Wuye's project builds on their successful mediation of some of these conflicts, and adds the dimension of livelihood collaboration in order to restore the land – thereby creating a 'win-win-win' for the conflicting parties and the environment.
"It puts into practical action some of the pioneering insights of the Caux Dialogue on Land and Security (CDLS) in Switzerland, which Pastor Wuye, Imam Ashafa and their team from the Interfaith Mediation Centre in Nigeria regularly attend.
"In preparing for the event, UNAOC/BMW asked Pastor Wuye and Imam Ashafa, 'How can we, the audience, join you in making a difference?
"They replied: 'Share with everyone that tackling farmer-pastoralist conflict will restore the social fabric of the Sahel region, while healing the land will restore the environmental fabric…
"Support inter-dependence, celebrate the gifts of diversity and collaborate to care for the planet wherever you are – and we will make a difference to our world'."
The keynote statement at the award was delivered by the UN Deputy Secretary-General, Ms Amina Mohammed.
The two Nigerian awardees had earlier paid a courtesy call on the Permanent Representative of Nigeria to the UN, Prof. Tijjani Muhammad-Bande.
Load more