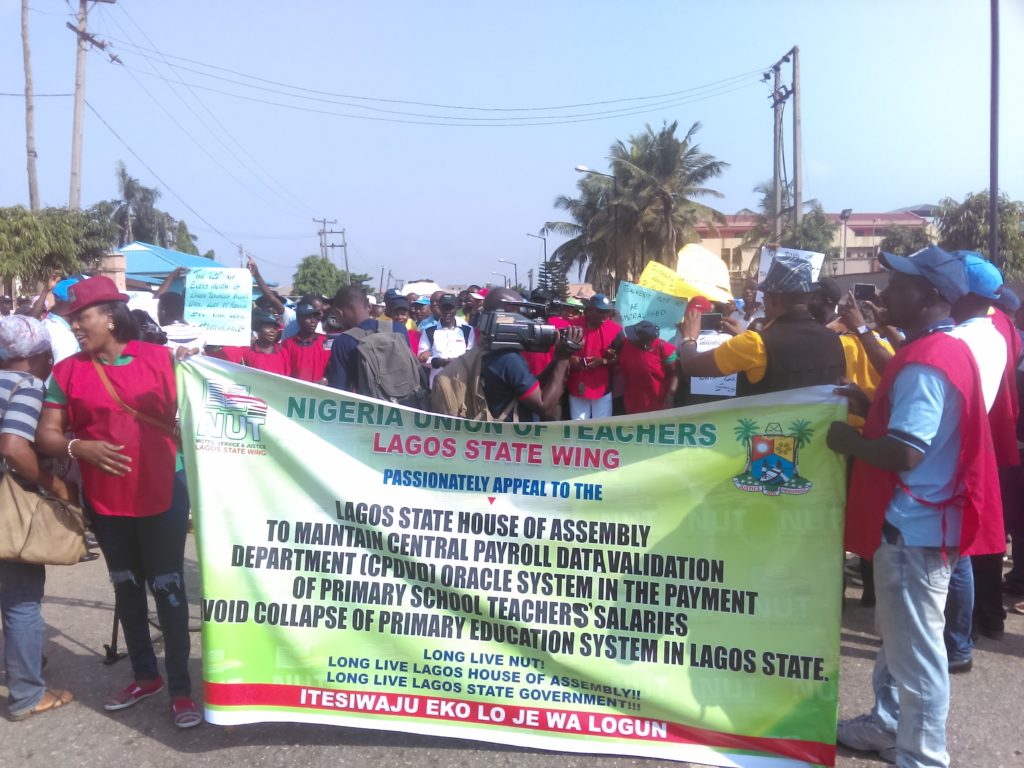 The Lagos State wing of the Nigeria Union of Teachers (NUT) on Thursday held a protest asking the state government not to transfer the payment of primary school teachers' salaries to local governments.
The teachers, numbering more than 1,000 from the six education districts in the state, staged a rally from the NUT pavilion, Ikeja to the state secretariat, Alausa.
The protesting teachers chanted solidarity songs while carrying placards with various inscription such as: "The 1990 – 1994 Dark Days where teachers were owed several months salaries must not be revisited''.
Others are "The days of 'Room to let', teachers don't apply should not be enacted'' and "The 23rd of every month is Lagos teacher's alert day, let it remain so, our dear Honourable''.
Mr Adedoyin Adesina, NUT State Deputy Chairman, called for direct payment of primary school teachers' salaries through the Central Payroll Data Validation Department (CPDVD).
According to Adesina, this is will enable easy collection of teachers' salary like all other workers in the Lagos State public service.
He said the union was not against local governments but would resist, by all means, the placement of teachers' salaries under the third arm of government.
""Such decision, if taken in Nigeria of today, is to reverse us to inglorious and dark ages of pre-1994, whereby the majority of local governments owed teachers up to 24 months salaries.
""We urged the lawmakers to reject such bill that will place teachers' salaries under the local governments again,'' the teachers said.
Adesina said the problem of dwindling enrolment in public primary schools was a fallout of the irresponsible action of the local government councils in the 1990's.
He noted that primary schools, as the bedrock of education, should not be treated with levity.
READ: NITEL, MTEL pensioners to begin verification in Jan. 2018
""Once the foundation is faulty, other levels will also collapse.
""If a school can be under lock for eight months, the parent will find alternative and this was the scenario during the pre-1994 era.
""Since teachers' salaries were no longer paid by the local governments in the last nine years, the country has not experience teachers strike,'' he said.
Attending to the protesting teachers, a lawmaker, Mr Jimoh Wahab, representing Apapa Area Constituency, said the state government and its lawmakers would not jeopardise the interest of teachers in the state.
Wahab said that the appropriate committee of the House would look into the position paper presented by the union.
The lawmaker said the Assembly would also invite the union leaders for deliberation and get other inputs before any decision would be reached.