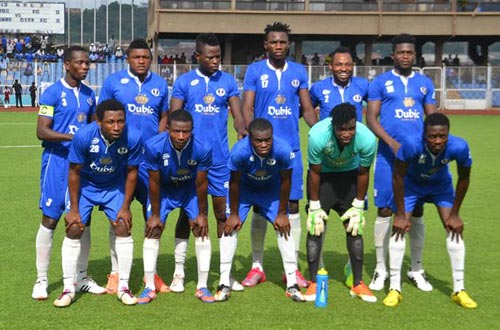 The Abia Commissioner for Sports, Martins Okoji, has issued a Jan. 13 deadline to Monimechelle, the contractor handling the regrassing of Enyimba FC Stadium in Aba, an official has said.
Vincent Obike, the Sports Ministry's Director of Information, in a statement on Tuesday in Umuahia said Okoji asked the contractor to to complete and hand over the project by that date.
"The commissioner charged the contractor to ensure that the job is completed before Jan. 14, when the 2017/2018 Nigeria Professional Football League (NPFL) season is scheduled to commence,'' he said in the statement.
Obike added that the commissioner issued the deadline after inspecting the work done so far by the contractor on the pitch.
He said Gov. Okezie Ikpeazu of Abia wanted the project completed in order to enable Enyimba International Football Club of Aba play their home matches at the stadium.
"The governor has expressed regrets that Enyimba FC were compelled to play their home matches for two consecutive seasons outside Aba. We do not want this to happen next season.
"It is no longer acceptable to government that our darling club will continue to play their home matches outside their home," Obike quoted the commissioner as saying.
He also said the commissioner expressed satisfaction with the quality of materials being used by the contractor and promised that the ministry would partner with the company "to ensure quality and timely delivery of the job''.
The statement quoted the Managing Director of Monimichelle, Ebi Egbe, as having "promised to do everything within his power to see that his company met the deadline''.
Egbe had attributed the delay in the completion of the project to the cost variation.
"The contractor expressed the hope that government would effect the necessary adjustments to avoid further delay,'' Obike said.