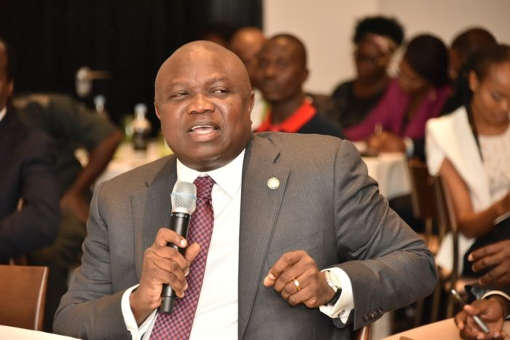 As the year 2017 gradually comes to an end, the Itesiwaju Ipinle Eko Vanguard, a Non Governmental Organization (NGO), consisting of artisans, political groups have scored the Lagos State Governor; Mr. Akinwunmi Ambode high in the governance of the state.
The coordinator of the groups, Mr. Bamigbade Seyi who took stock of the state government's implementation of the 2017 budget on Monday when he received the leader of the Ambode People Movement at his Lagos residence, said the development of the state is an evidence of good budget implementation.
He said, despite the economic downturn witnessed in the country Ambode was able to prove himself as seasoned accountant and a true leader that can be trusted with public funds.
He said," Governor Ambode has touched so many areas with infrastructural projects, payment of worker salaries as at 23th of each month, food security, Quality Education, Security of lives and properties, sport development, jobs creation to mention few, this has made him different."
While welcoming the Ambode People Movement into the Itesiwaju Ipinle Eko Vanguard fold, Bamigbade said the governor needs all the support of Lagosians for the good jobs to continue beyond 2019, promising the group that the governor will do more of stomach infrastructure soon.
He also appealed to them to mobilize for the ongoing Voters registration, All Progressive Congress, (APC) membership registration and the upcoming walk for good governance scheduled to hold on the 16th December, 2018 to show appreciation for the good governance and mobilize towards coming elections.
Responding to Bamigabde's address, the General Coordinator of the group, Comrade Taiwo Ajayi lauded Bamigbade for his total support for Good Governance and for allowing them to participate in a process pushing for continuity in Lagos Sate in year 2019.