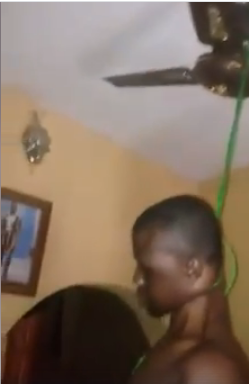 The rate of suicide in Lagos has continued to be on the increase as another man at Kemberi, Okokomaiko area of Lagos committed suicide by hanging himself to a ceiling fan.
The victim, simply known as Papa Ugochukwu was said to have ended his life after an alleged controversy between his wife, mother-in-law and their Pastor.
The deceased was found hung to a ceiling fan in his sitting room by neighbours.
Sources told Linda Ikeja that the man destroyed his ATM cards and left a suicide note on the table, where he wrote that his wife and mother-in-law were his problems.
The man was said to earn up to N200,000 monthly.
The video of the tragedy was shared by Biafra IPOB Infos, on its facebook wall on Friday.