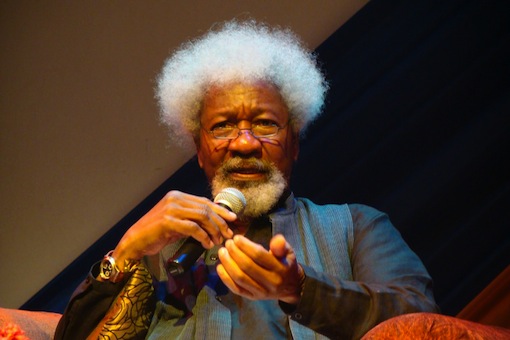 Jennifer Okundia
The 12th edition of the Wole Soyinka Award for Investigative reporting took place last night at NECA main hall, Agidingbi, Ikeja, Lagos. Wole Soyinka Centre For Investigative Journalism [WSCIJ] is a not-for-profit, non-governmental organisation with social justice programmes aimed at exposing corruption, regulatory failures and human rights abuses with the tool of investigative journalism.
An award giving event which recognises the extra hard work and effort journalists put in to expose corruption and the ills of our society had in attendance Nobel Laureate Professor Wole Soyinka, Senior Advocate of Nigeria Femi Falana, NIJ provost Gbemiga Ogunleye, Oby Ezekwesili and journalists from all walks of life.
This year's award Categories and Winners are:
Special Prize Award in Agriculture and Food Security
1] Tadaferua Ujorha [Deputy Editor Daily Trust] Winner
Honorary Lifetime Award For Journalistic Excellence
2] Edetaen Ojo [Executive Director Media Rights Agenda] Winner
Anti Corruption Defender Award
[3] Oby Ezekwesili [Senior Economic Advisor Africa Economic Development Policy Initiative] Winner
Print Category- Commended Works:
Award For Investigative Reporting
[4] Chinwe Agbeze – Prize N100,000 [Business Day repirter] 2nd runner up
[5] Mojeed Alabi – Prize N100,000 [New Telegraph reporter] 1st runner up
[6] Adekunle Yusuf – Prize N200,000 [The Nation reporter] Winner
Radio Category: No Winner
Television Category: No Winner
Editorial Cartoon Category: No Winner
Online Category- Commended Works:
[7] Ebere Ndukwu- Prize N50,000 [Ripples Nigeria] 2nd runner up
[8] Kemi Busari- Prize N100,000 [Premium Times] 1st runner up
[9] Olufisayo Soyombo- Prize N200,00 [The Cable] Winner
Photo Category- Commended Works:
[10] Ayodele Adeniran- Prize N100,000 [The Guardian] 2nd runner up
[11] Kolawole Aliu- Prize N100,000 [Leadership] 1st runner up
[12] Ayodele Ojo- Prize N200,000 [The Sun] Winner
2017 Overall Winner for Wole Soyinka Awards -Adekunle Yusuf [The Nation reporter] additional N50,000 Prize after winning the Award For Investigative Reporting earlier. He goes home with a total prize of N250,000.
Professor Wole Soyinka in his closing remarks "urged journalists to keep up the good work and also talked about the Wole Soyinka Foundation which in collaboration with a lebanese company are working towards taking the winners abroad to broaden their minds and gain more knowledge". In addition to the Awards, the winners will also take home two terabyte hard drives.