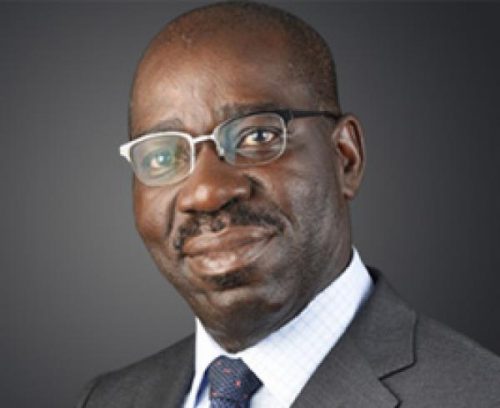 Jethro Ibileke/Benin
Edo state Governor, Godwin Obaseki has appealed to aggrieved pensioners in the state not to create confusion and anarchy, saying he cannot be intimidated.
The Governor who made the appeal at the Annual National Pensioners Day Celebration in Benin city on Monday, which ended on a rancorous note, told pensioners that they cannot frighten or intimidate him.
He siad despite its huge indebtedness to state pensioners which amounted to over N3.9 billion pension arrears, Edo State is still the most pension friendly in the country.
He frowned at the attitude of some of the pensioners in the state over their series of protest over non-payment of pension arrears spanning several months, saying that the problem was inherited from previous administrations and should not be used to tarnish his government.
"You have a Governor who understands the problem, who is trying to resolve the problem, and the government's will is that we work together to resolve this problem …Give us money to divide us. We should be very, very careful.
"Please, let us prove the facts from the fictions, let us not be emotional, because it is about your life, it is about your money. Let people not create confusion so that we cannot resolve this problem.
"We have not solve all the problem, we know, but if we have made progress, admit that we have made progress so that we can resolve the problem. The arrears were accumulated because between 1996 and 2000, no pensioners were paid and the arrears almost got to N10 billion.
"In his wisdom, [former] Governor Oshiomhole put up a scheme and we put everybody in batches and we have been paying to those batches.
"From N10 billion, today​, we are under N4 billion, and people say we have not progressed? This is wicked! It is very, very wicked when people can't agree and say than you for the small thing we have done. Most pensioners are grateful, it is only a few who are trying to create confusion," he said.