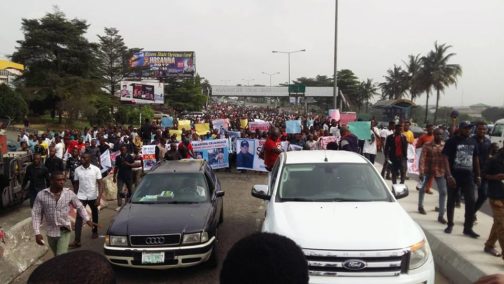 Okafor Ofiebor/Port Harcourt
There were two peaceful protests for and against the scrapping of the Special Anti-Robbery Squad (SARS) in Port Harcourt Rivers State on Monday.
The protests were led by members of the two major political parties, the All Progressives Congress (APC) and the Peoples Democratic Party (PDP).
Prominent persons among the protesters were Dumo Lulu Briggs, Tonye Princewill, governorship candidate of the Labour Party and Asita O. Asita, former governorship aspirant of APC. The protesters marched to the Police headquarters at Moscow road, Port Harcourt where they handed over their letter to the state police commissioner, Zaki Ahmed.
Addressing the protesters, Ahmed assured that the police will not relent in chasing criminals out of their hideouts and arresting them. He enjoined all well meaning Nigerians to support SARS which is a unit in the police.
"SARS must stay, Don't kill SARS", "Those asking for SARS to go have evil intentions", "SARS must stay to stop armed robbers, kidnappers and cultists".
On the other side, the anti-SARS protesters were led by Mr. Bright Ameahule, President-General Grassroots Development Initiative (GDI),a PDP supporter and Samuel Nwanosike. They walked to the Government House, Port Harcourt where they called for the scrapping of SARS. They described the crime outfit as a tool for rigging elections in favour of the APC.
"SARS must be scrapped", "We don't want SARS," "Akin Fakorede Must Go," they chanted.