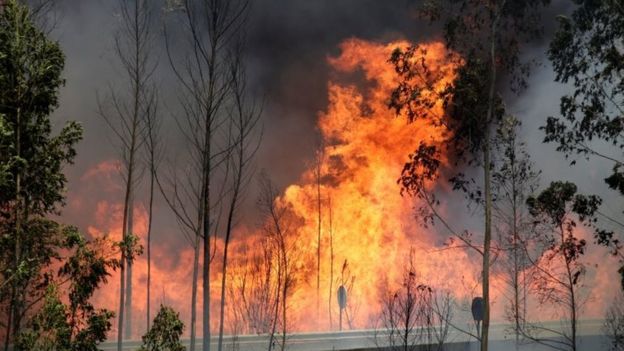 Authorities said 18,000 properties are under threat as wildfire continues to grow in southern California grow to 933 square km in size.
The blaze, dubbed the Thomas fire, has become the fifth largest wildfire in modern Californian history and is currently only 15-per-cent contained, according to officials.
Mandatory evacuation orders were lifted for the towns of Ojai and Santa Paula, some residents in Montecito, Summerland and Carpinteria in Santa Barbara County were asked to leave their homes as the fire approached the coastal towns.
After starting on Dec. 4, the Thomas fire has already destroyed some 644 homes and is currently threatening 18,000 more homes, businesses and structures, officials say.
They estimate the cost of the fire has already reached over 38 million dollars.
A 70-year-old woman died in Ventura in a car crash while trying to escape the flames earlier last week, officials said.
So far, she is the only confirmed fire-related fatality in the state.
On Monday, President Donald Trump and Vice President Mike Pence met with U.S. Agricultural Secretary Sonny Perdue to discuss the continued response to the California wildfires.
The department is working together with several agencies including the Federal Emergency Management Agency in providing "ground and air wildfire suppression assets" and coordinating the fire response, a White House statement said.
Trump issued an emergency declaration for California on Friday. There are currently six large fires burning in the south of the state and officials are still investigating how all of them started.
The Rye and Creek fires were over 90 per cent contained as of Monday, and firefighters were also making progress on the Skirball fire, which is burning in the Bel Air area of Los Angeles, reaching a containment level of 85 per cent.
Firefighters are not getting much assistance from weather conditions, however, even though the Santa Ana winds calmed down a little overnight.
The region faces an extended period of those offshore winds until Monday night, the National Weather Service said.
It also said in a Twitter post this was "one of the driest December days so far."
The so-called "devil winds" blow from Southern California's inland deserts toward the coast, typically during late summer or autumn, raising the risk of wildfires in the heavily populated West Coast regions.