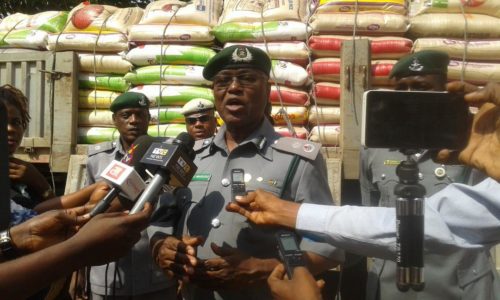 The Nigeria Customs Service (NCS), Sokoto state Command, says it has seized a truck containing 300 bags of foreign rice concealed within 350 bags of made in Nigeria ones.
The state Comptroller, Alhaji Nasir Ahmed, disclosed this on Monday at the command's headquarters while displaying the seized items.
Ahmed said that the team of the state task force had on Dec. 9, intercepted the truck on the Sokoto, Gusau road containing the 650 mixed bags of rice.
READ: Commission reaffirm its commitment to workers' welfare for internal harmony
He assured that the command would not relent in its effort to ensure that no person or group of persons sabotaged the effort of the NCS and the growth of the nation's economy.
"We will keep pursuing them to ensure no foreign rice passes our borders, as smugglers can do everything possible to succeed in their unlawful strive," Ahmed said.
He said that the command would contact manufacturers of the made in Nigeria rice, Labana Rice Mill, from Kebbi state, to ascertain whether the remaining rice were from their company.