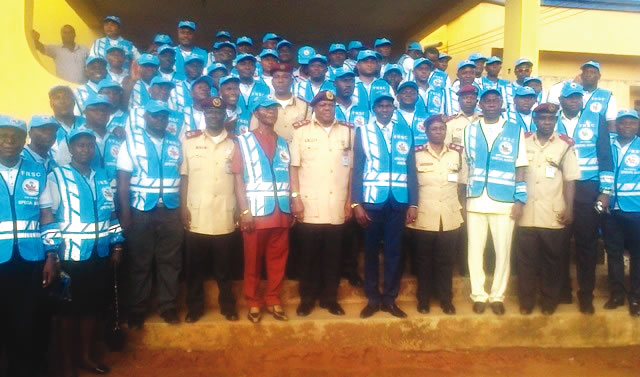 Jethro Ibileke/Benin
Drunkenness and attitudes​ of motorists, passengers and pedestrians have been fingered as main factors that determine whether a road crash will occur not.
The Commander of the Federal Road Safety Corps (FRSC), Zone 5, Assistant Corps Marshal, Kehinde Adeleye, said this on Monday at the flagging-off of the 2017 'ember months' campaign sponsored by Guinness Nigeria Plc, in Benin, Edo state.
He disclosed that alcohol-related road traffic crashes had remained a major issue in Nigeria, hence the corps' mandate to organize sensitization programmes of which this is one to educate motorists of the dangers of drunk driving which is manifest in speed violation hence resulting in crashes on the highway
"Road traffic crashes don't just happen, they are caused. The human factor of which excessive alcohol is one, has been identified as a major causative factor for crashes.
"Whether the roads are​ good or bad, it is the attitude of the human element either as the driver, passenger, pedestrian among others that mainly determines whether a crash will occur in the face of other variables like bad weather, mechanically deficient vehicles and so on," he said.
Adeleye said the 'ember months' campaign with the theme, "Responsible Drinking" was aimed at promoting responsible drinking among road users in Benin-City and Nigeria in general.
He, however, called on stakeholders to make conscious efforts to contribute to the reduction of road crashes by a collective resolve to drive to stay alive and encourage others to do same.
The FRSC boss noted that drunkenness results in over speeding, overloading, reckless driving​, non use of seat belts and use of phone while driving.
Earlier, the Corporate Relations Director, Guinness Nigeria Plc, Viola Graham-Douglas, disclosed that the 'ember months' campaign was geared towards promoting safety on roads by encouraging a culture of not drinking and driving.
Graham-Douglas who was represented by Acting Site Director Benin plant, Everest Oghonim, said the company was committed to creating awareness about responsible drinking and promoting the enjoyment of alcohol.
"We believe that our position as a market leader places a significant responsibility on us to raise awareness about the important of consuming alcohol in a responsible way. We are committed to achieving this through a number of responsible drinking initiatives which are directed at our various stakeholders, customers, consumers and employees," he said, adding that drinking and driving did not mix.
"When you drink, don't drive. When you go out in a group to have fun, designate one of you to drive and that person should not drink. If you are going out alone, arrange for taxi to take you home after you have had something to drink. Whatever, you do this festive season, don't drink and drive," he stated.