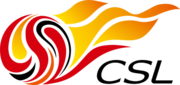 Chinese football authorities are set to impose strict new regulations on the country's clubs.
They are now using the threat of losing their professional licences as a spur to establish a more comprehensive youth development programme.
According to a report, the Chinese Football Association (CFA) will introduce rules in 2019 that force clubs in the top two tiers of the domestic league to create youth teams.
The teams are to range from the under-13 bracket up to the under-19 level.
They will play in competitions organised by the CFA and failure to comply will see the clubs forfeiting their registration to play professionally.
However, the CFA have yet to respond to a Reuters request for a comment on the matter.
The move marks the latest CFA directive to enhance the future prospects of the national team, who have struggled to make an international impact in the last decade-and-a-half.
Bora Milutinovic led the country to their only World Cup appearance in 2002, before an Arie Haan-coached team reached the final of the Asian Cup on home soil two years later.
Since then, China have struggled, with the number of youngsters in the country playing the game diminishing as a number of factors, including match fixing scandals, blighted the sport's progress.
Football-loving Xi Jinping's rise to become the Chinese president in 2012 has helped reinvigorate the sport's popularity.
State and private entities have been throwing huge sums into the development and promotion of the game.
High-profile imports such as Carlos Tevez, Luiz Scolari, Andre Villas-Boas and Oscar are among those who have worked in the Chinese Super League in the last 12 months.
Also, the clubs have become more prominent on the continental scene.
The national team continues to struggle, however, with coach Marcello Lippi calling for patience as the nation seeks to make an impact on the global stage.
"When you talk about China, you have to think about the culture and the time China has spent with football," he said after Tuesday's loss to Japan in the East Asian Championship.
"It's very different to Europe. I'm having to grow a team almost from scratch."
Under the Italian, China recorded their best performance in FIFA World Cup qualifying since 2002, but the country still missed out on a place at next year's finals in Russia.