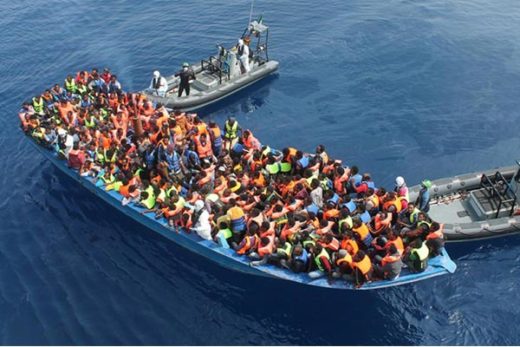 A German army vessel has rescued 102 migrants from the Mediterranean, the Defence Ministry said on Thursday.
The ministry said the Bundeswehr ship, part of an EU mission dubbed "Sophia," rescued 84 men, two women, 15 children and a baby from a vessel off the Libyan coast, 25 km north of Tripoli.
The men, women and children were brought to Messina in Sicily, while their vessel sank.
The German military has saved 22,000 people from the Mediterranean since May 2015.
In another development, the Turkish media reported that nearly 70 migrants trying to reach Europe by sea became stranded on a rocky outcrop in the Aegean Sea, and needed rescuing by helicopter.
The state news agency Anadolu reported that four children were among about 68 migrants, who had tried to reach the Greek islands from Turkey in an inflatable boat.
The failed migrants were taken by helicopter back to the Turkish mainland, where some three million Syrians are living after fleeing conflict in their homeland.
The land route across the Balkans and the sea route across the Mediterranean are the two main methods used by undocumented migrants and asylum-seekers who are attempting to reach Europe.