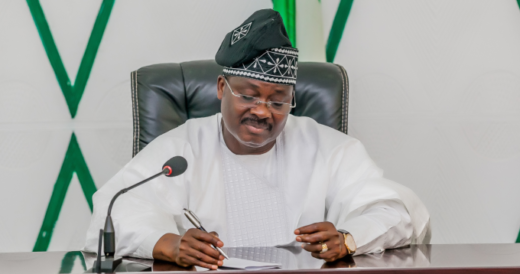 Gbenro Adesina/Ibadan
Oyo State Governor, Abiola Ajimobi on Thursday presented a total of N267. 436 billion budget proposal for 2018 to the members of the State House of Assembly.
The figure is N60.4 billion higher than the 2017 budget which stood at N207 billion.
According to the budget proposal, christened "Budget of Stabilisation", the proposed revenue was projected as N93.68 billion from the federation account, N7.53 billion from transfers (LG, JAAC for LGSPD and LGSC), and N112.10 billion from Internally Generated Revenue (IGR) and increase of four percent from the 2017 budget.
The total recurrent revenue is N213.3 billion, and the capital receipt was put at N43.72 billion.
Giving the proposed expenditure, the sum of N39.84 billion is to be spent on personnel cost, overhead cost would gulp N25.24 billion and N53.28 billion is budgeted for consolidated revenue. In all, while the total recurrent expenditure is N118.37 billion, the capital expenditure is N149.1 billion.
Ajimobi said that the government would commit N85.39 billion to the economic sector, N54.280 billion to the Social Service sector, N.517 billion to the law and justice sector and N5.94 billion to the general administration sector.
He said, "The aggregate percentage of 93.71 percent of the capital expenditure allocated to the economic and social sub-sectors underscores the State Government's determination to continue to pursue a people-centered, empowerment-focused agenda. We consider this as the best antidote to the problem of poverty amongst our people. In line with Fiscal Sustainability principle, personnel expenditure has been rationalised to be 15 percent of the total budgeted expenditure".
Commenting on his administration in the last six years, Ajimobi noted that he is planning to introduce technology in the area of security adding that close circuit television, CCTV Cameras would be mounted in crisis prone areas in the state.
Reacting, the Speaker of the Oyo State House of Assembly, Michael Adeyemo assured the governor that the budget would be given a speedy passage.
Meanwhile, during the budget presentation, Oyebamiji Joshua representing Akinyele 1 state constituency publicly declared his intention to decamp from his party, Accord to the ruling All Progressive Congress, APC.
According to him, he is tired of the series of crisis rocking Accord as well as impressed with transformation of the state championed by Governor Ajimobi of APC.
He was eventually presented with the party flag by the Majority Leader, Kehinde Subair and received by the Governor, state party chairman, Chief Akin Oke, the Speaker, Michael Adeyemo and other party chieftains.
At the budget presentation, royal fathers, including the Alaafin of Oyo, Oba Lamidi Adeyemil the Aseyin of Iseyin, Oba Salaudeen Adekunle; Oba Owolabi Olakuleyin, Oba Eddy Oyewole, Oba Lateef Adebimpe, were among those who were in attendance aside from the party chieftains, captains of industry, members of the state executive council and members of the public.