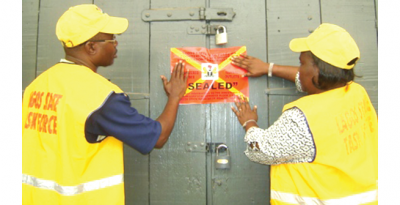 Bayelsa Board of Internal Revenue (BIR) has sealed the liaison office of Federal Polytechnic, Ekeowe and the premises of Azikel Group over alleged non-remittance of tax deducted from staff salaries.
Mr Ramsey Omukoro, Technical Adviser to Bayelsa BIR, told journalists in Yenagoa on Friday that the state government took the action following fruitless efforts to recover the outstanding tax deductions since 2009.
Omukoro said that the step was taken in the bid to boost the internally generated revenue (IGR)of the state, beside sending a warning to other defaulters that it was no longer business as usual.
"This operation seeks to recover tax revenue owed to the government by Fedrral Ploytechnic Ekeowe and Azikel group and it is pursuant to Section 104 of Personal Income Tax Law, 2011 and to reinforce the resolve of the government to grow the IGR.
"Within the past one week, we have grown the IGR by over 100 percent to the current figure of N1.8 billion and we are poised to work harder in view of the pressure of the recession following dwindling allocation from the federation account.
READ: Army sentences soldier to death for killing 5 civilians
"The debt has been owed since 2009, for the Polytechnic, up till 2015, and we have yet to conclude computations for 2016 and 2017 is about ending.
"Executing these orders is our last resort; we have persuaded them, we have written series of letters to them to pay, but no response from them,'' Omukoro said.
He said at the expiration of 14 days from Dec. 15, if the tax liability was not settled, the revenue board would take more drastic steps to recover the tax debt.
The affected establishments allegedly failed to remit to the revenue board tax deduction for many years from their staff.
According to the court orders pasted on the premises, the outstanding employee tax debt from the Federal Polytechnic, Ekeowe stood at N231, 313, 210 only, while that of Azikel Group was put at N30, 364, 645.58.