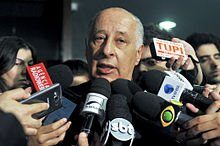 FIFA's ethics watchdog has provisionally banned Marco Polo Del Nero, the head of Brazil's football association, for 90 days, the organisation said on Friday.
Del Nero has been banned from all international and domestic football activities and could be excluded for a further 45 days, FIFA's ethics committee said in a statement.
The ban was imposed following a request from FIFA's investigatory chamber which is looking into unidentified violations of the organisation's ethics rules.