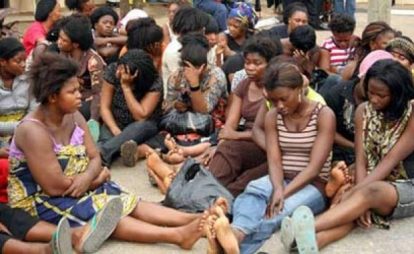 The United Nations High Commissioner for Refugees (UNHCR) has commenced a community based campaign Project called "Reality Check" to curb trafficking of women in Nigeria.
Mrs Melita Sunjic, UNHCR Head of the Unit Communicating with Communities, Vienna, said this during the presentation of the "Reality Check Campaign Project" with relevant stakeholders in Abuja.
She said that the UNHCR have discovered that over time, campaign slogan and materials had not really had much impact in the attitudinal change of its target audience.
According to her, the community based campaign project would be targeted at real life stories of victims to expose the youths on the dangers of the journey.
She said that the community campaign is centered on communities reaction and their various pattern of communication, noting that the reaction of the communities will bring the change.
"UNHCR is introducing a reality check campaign to numerous stakeholders; both governmental and non-governmental are already engaging in preventive information campaigns in Nigeria for many years.
"UNHCR does not want to launch a campaign of its own in Nigeria but we have considerable experience in the use of testimonials in campaigning, that has been done very successfully targeting Eritreans and Somalis through the campaign.
"Through a financial contribution the European Commission is now giving us the opportunity to do the same work with Nigerian women.
"UNHCR will collect credible authentic and unbiased testimonials by Victims of Trafficking (VoTs) in Europe and present them a video in English and local Nigerian languages where useful," she said.
Sunjic, however, said that organisations in Nigeria can use these testimonials as an additional, persuasive tool and disseminate the clips through their usual campaigning channels.
READ: Nigeria And The Imperative Of Happiness
She said that the testimonials won't be UNHCR-branded, which can be used free of charge in various communities, to reach potential victims early before they are influenced by trafficking agents.
She said that reality campaign through the communities via discussion of the problem will evoke attitude change using the family, elders, spiritual leaders, teachers as the agent of change.
Also speaking, Mr Emeka Obiezu said that the project was a welcome development to help in the fight against human trafficking, irregular migration and relevant crimes.
He, however, noted that the root causes that prompt Nigerians to embark irregular migration in a bid to seek greener pastures in the western world should be tackled.
Obiezu said that several campaigns embarked on by the Nigerian government, Civil Society Organisations and Non-governmental Organisations, will only become a success when the government puts in place the basic amenities for its citizens that attracts them to western countries.
He urged the government to put in place policies that would create jobs, protect the social welfare of its citizens.