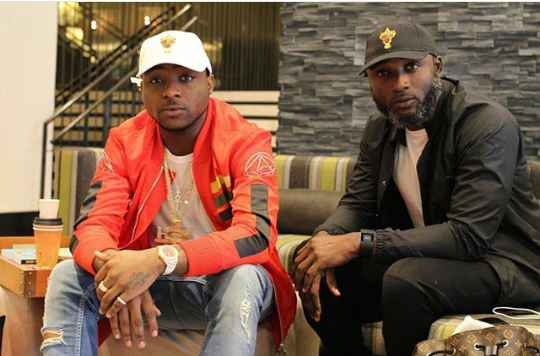 Davido's former manager, Kamal Ajiboye says he was not fired by the singer as opposed to what we heard on social media. Kamal reveals that he voluntarily left on his own accord.
In an interview with Sunday Scoop, Kamal insisted that he wasn't fired via social media. He said, "Davido didn't give me the sack via social media. He was in Gabon when he wrote "I am now my own manager" on Snapchat. Funnily, I was the one who drove him to the airport. Before then, we had had conversations about moving forward and I realised that what he wanted was different from mine. I wanted something bigger for him, but he was comfortable with what he wanted to do".
While admitting that Davido is a big client, he maintained that parting ways with him had not affected his career as an artiste's manager.
"I was prepared for it; I was the one who left voluntarily. It was something I thought about for a while. I wanted something I could control. This doesn't mean I couldn't control him, but Davido is a lot of pieces. When an artiste is big like he is, trust me it is not easy to control him. I didn't lose control over him, but it got to a point where we had different goals.
We're still cool; I see him as my friend and family. I still have a good relationship with the family members too, so there's no bad blood" he said.
Presently managing Seyi Shay, Kamal further revealed that he didn't fear that he would lose relevance once he stopped working with Davido.
"I have a good relationship with everyone. People who are familiar with me know that I'm a man of my word. Whenever I set out to do something, I don't look back. I think people appreciate this about me. I never got carried away because I was managing Davido. Then, I ensured that I always reached out to people and hung out with my friends. So, after the split, I had a lot of support from my friends within and outside the Industry."
The split had nothing to do with the fact that I didn't support his decision to snub the international deal he got with Sony Music. You know when artistes want to sell their market, they say different things.
Speaking on why Managers need to build a brand for themselves;
"Once a big artiste leaves a manager, it becomes hard for him or her to survive. But that shouldn't be the case and I believe we must have learnt our lessons. When you are managing an artist, you need to start building a brand for yourself because nothing lasts forever" Kamal added.